A New Direction | Spotlight on Hood College Theatre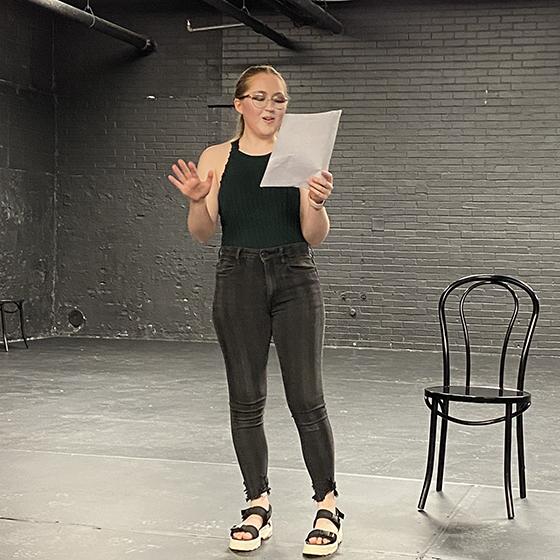 Now under new direction from Aaron Angello, Ph.D., the Hood College Theatre program has announced its latest season with exciting opportunities for students.
Spotlight on Hood College Theatre
Program
Theatre & Drama (Minor)
English (B.A.)
Department
English & Communication Arts
From the grand stages of Broadway to small-town auditoriums, venues across the country have all shared a common problem over the past year and a half—their stages have gone dark. Lockdown restrictions imposed in the wake of the coronavirus pandemic have seriously impacted the entertainment industry. Artists adapted with aplomb, live streaming concerts, plays, exhibits and everything in-between.
Although in-person events are steadily making a return, health and safety guidelines add further complexity to an already demanding field. Revitalizing a collegiate theatre program would prove challenging even without these strenuous conditions. And yet, Aaron Angello, visiting professor of English at Hood College, is eager to accept the task.
Dr. Angello's passion for theatre arts began as a child. From there he went on to study acting at a conservatory in New York City before relocating to Los Angeles. Besides working on a slew of independent films, Dr. Angello spent much of his time at the Will Geer Theatricum Botanicum, an outdoor amphitheater internationally recognized for its Shakespearean productions and educational programming. Following an MFA and Ph.D. in creative writing and literature respectively, Dr. Angello settled in Frederick, where he's taught at Hood for the past six years.
Now assuming a new leadership role as theatre program director, Dr. Angello seeks to offer a unique creative outlet for students. Whether performing onstage or working behind the scenes as a designer, Dr. Angello wants everyone at Hood to know there is a place for them. "As a teacher in the arts, I look at my role as providing opportunities for students. It's not about me at all. It's about what the students want to do, and how I can provide a space and whatever logistics they need to make that happen."
The recently announced season includes a collection of one-acts by David Ives and Lauren Gunderson's poignant coming-of-age drama I and You. In spring 2022, expect to see Kristen Greenidge's Baltimore, a timely exploration of racism on college campuses. While the arts industry at large has made a concerted effort to push for more inclusivity, Dr. Angello hopes to likewise embrace social justice as a key element of the program's ethos. "Hood has an incredibly diverse student population. Beginning with Baltimore, I'm going to be looking for ways to include students of color. I want the theatre program to represent the student body." Dr. Angello also envisions collaborating with the Black Student Union and African American Studies program to devise original work based on stories from black elders within the Frederick community.
The new program's mission will be to foster a thriving performing arts community that extends beyond the Hood College campus. There are plans to partner with the student musical theater group for cabarets and singer/songwriter nights. Dr. Angello further aims to integrate the Frederick Shakespeare Festival, which has featured Hood students working alongside professional equity actors. Internships with local organizations, such as the Maryland Ensemble Theatre, are another exciting possibility.
Even for students outside of the English department, theatrical training can impart skills and values that are applicable across any discipline. Besides boosting confidence when it comes to speaking in front of a crowd, theatre allows people to gain a better sense of themselves. More so, it instills a sense of empathy for others. "I think actor training makes people be more functional humans. It makes us understand each other, our motivations and our desires, how we relate to each other. It's kind of endless. It's also unique to everybody," Dr. Angello explains.
If you have ever been curious about getting involved with theatre, Dr. Angello wants you to know there's no time like the present. How might he coax someone who feels nervous about the prospect of pouring their heart out in front of a live audience? "This is a safe space. It's not a judgmental space. Do you want to try this? This is the time. This is the place. You'll probably end up having a really good time. And that's my goal, to help you have a good time."
Interested in learning more? Visit the Hood Theatre Program homepage.
Are you ready to say Hello?
Choose a Pathway
Information will vary based on program level. Select a path to find the information you're looking for!