Nursing Students Present at International Leadership Conference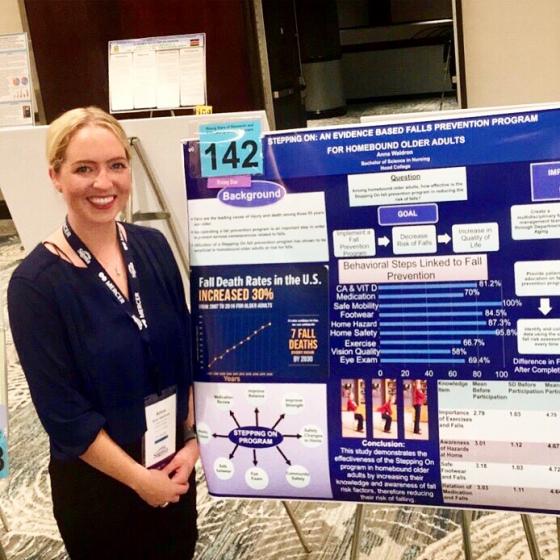 Nursing alumni Dylan McLellan and Anna Waldron presented research at an international conference in September.
Nursing Students Present at International Leadership Conference
Program
Department
Recent nursing alumni Dylan McLellan and Anna Waldron, who graduated in May, presented research at the Sigma Theta Tau International Leadership Connection Conference in Indianapolis, Indiana in September. The Hood nursing faculty nominated them based on their potential for leadership and scholarship.
Students from more than 50 schools from the U.S. and three international countries presented research, literature reviews or evidence-based projects as part of the Rising Stars of Research and Scholarship invited student posters program. The event showcased the scholarly contributions of students to the nursing profession.
McLellan's research was on "Reviewing Effectiveness of Nurse-Led Pediatric Asthma Education Programs in Preventing Hospital Recidivism and Missed-School Days."
"Attending the Sigma Theta Tau Leadership Conference was very empowering as it showed me what nurses can accomplish on their own," he said. "The presented research showed me how far the profession can advance with the increased education that having a Bachelor of Science in Nursing or graduate-level degree provides. While presenting our posters, I was able to interface with everyone from nursing students to directors of nursing programs. They reviewed my research, and I asked about theirs.
"During the breakout sessions, I was able to learn of research translatable to my practice, which gave me ideas to start my own research projects at work. I greatly appreciated this opportunity and would recommend all nurses to accept an invitation to this conference if given the opportunity."
Waldron presented research on "Stepping On: An Evidence-Based Falls Prevention Program for Homebound Seniors."
"This leadership conference was a great experience that allowed me to increase my leadership abilities, gain education and network with other leaders," she said. "The classes that I attended during the conference included information on peer mentoring, transformational initiatives, applying evidence-based practice to advance leadership, and the experience of pregnant adolescents living in a group home. These classes were truly inspiring and motivated me to participate in other research conferences in the future."
Are you ready to say Hello?