Pierre Saint-Louis '22 | Chair of the Board Scholar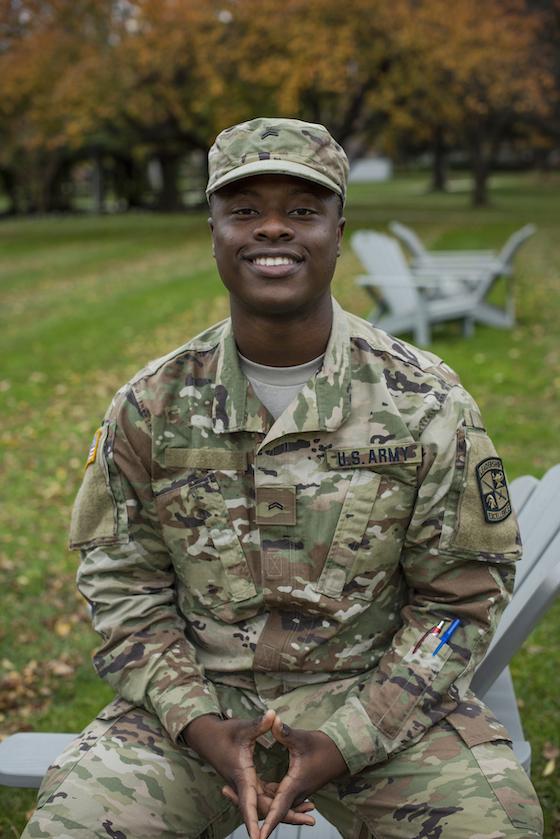 Pierre Saint-Louis '22, a U.S. Army service member who is a business administration major and Chair of the Board Scholar, reflects on his time at Hood as he prepares for graduation.
Q&A
Graduation Year
Program
Business Administration (B.A.)
Department
The George B. Delaplaine Jr. School of Business
Tell us where you're from originally and share a bit about your background before college.
I am a Haitian native. I speak three languages (English, French and Haitian Creole). I graduated form Woodlawn middle school as my class salutatorian. My magnet in high school was engineering and math. I was a National Honor Society Scholar in high school. I was also part of the National Society of Black Engineers and the Robotics Club.
Why did you decide to attend Hood College and how did you become interested in your major?
I decided to attend Hood after visiting the campus during orientation. I just fell in love with the campus, and I truly loved how caring and hospitable everyone was. On my first day here, I felt welcomed. I knew I could count on Hood to be my new home for the next four year. I enjoy the small campus and the teacher-to-student ratio because I honestly would not enjoy going to a big school.
How has receiving the Chair of Board Scholarship benefited you?
Without the Chair of the Board Scholarship, I don't know how either me or my parents would be able to afford college. It also kept me out of being in huge debt while I am earning my bachelor's degree.
What has been a challenge you faced during your time at Hood and how did you overcome this obstacle?
The first challenge would be acclimating to the college life and being more independent. Coming to college, it took a while to adapt to the flow of things, especially being away from my family. I went along to get along. That means I kept myself busy with different clubs and programs.
What is your proudest achievement during your time at Hood?
What are you plans for after graduation?
I will commission in the United States Army as a Second Lieutenant in the signal branch.
Do you have any advice to offer newly admitted Hood students?
Enjoy every moment because it's going time for you to close that chapter of your life and open a new one before you know it. It's ok to make mistakes because it's what makes you "You." Enjoy all the benefits that Hood has to offer because you've earned it.
Are you ready to say Hello?
Choose a Pathway
Information will vary based on program level. Select a path to find the information you're looking for!