Record Number of Blazers Named to MAC Honor Roll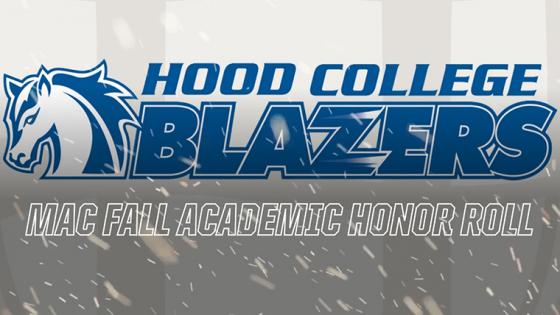 More than 50 Blazers qualified for the MAC Fall Academic Honor Roll.
MAC Honor Roll
Hood College placed 52 student-athletes on the Middle Atlantic Conference Fall Academic Honor Roll, the highest fall total since joining the conference prior to the 2012-13 academic year.
It is an increase of three over last fall's honor roll and is the first time more than 50 Blazers qualified in the fall. Women's soccer led the way with 19 student-athletes, followed by men's soccer with 11 and field hockey with 10. Also, women's volleyball put five student-athletes on the list, women's cross country had four and men's cross country had three.
Four Blazers who earned all-conference accolades in the fall qualified: Jayden Barrick, Payton Belella, Elisa Botten and Elena Zinaich. Four seniors earned the honor each of the past four falls: Belella, Zach Crossey, Robert Ellerson and Hailey Poisal.
The academic honor roll is comprised of student-athletes who compete in a varsity level sport and registered a term/semester GPA of 3.2 (on a 4.0 scale) or higher. For a full list of Blazers who made the list, visit hoodathletics.com.
Are you ready to say Hello?