Remembering Maryland Congressman Elijah Cummings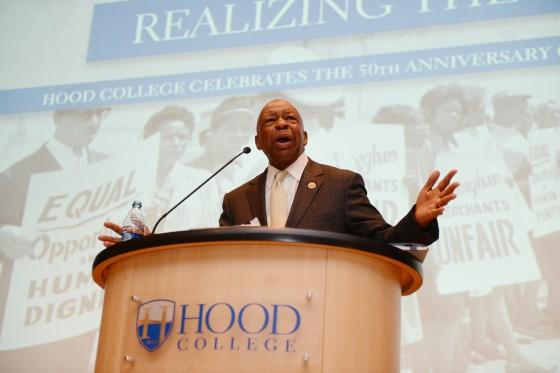 In remembrance of the late Congressman Elijah Cummings' here is a blog post from when he visited in 2014.
Elijah Cummings
From January 31, 2014
Celebrating 50 Years of Civil Rights Legislation
Hood College launched its celebration of the 50th anniversary of the Civil Rights Act with a lecture Jan. 29 by U.S. Rep. Elijah E. Cummings, representative for Maryland's 7th congressional district. The prominent and long-serving congressman spoke passionately about growing up in Baltimore during a time when the nation was struggling to eliminate segregation and its manifestations. He credited his teachers, librarians, parents, grandfather and other mentors for believing in him and inspiring him to "Realize the Dream." Throughout his career he has worked to pay it forward by empowering the people he represents to be the best they can be.
The yearlong celebration of the landmark legislation includes films, discussions, workshops and lectures by noted public figures.
Are you ready to say Hello?
Choose a Pathway
Information will vary based on program level. Select a path to find the information you're looking for!