The Ruth Whitaker Holmes School of Behavioral and Health Sciences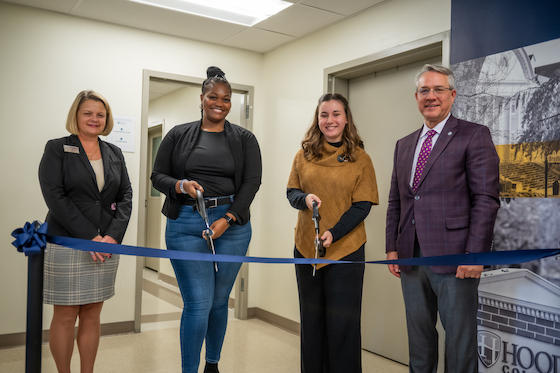 Hood College formally launched The Ruth Whitaker Holmes School of Behavioral and Health Sciences in October 2023.
Hood College Unveils New School at Ribbon Cutting Ceremony
Program
Nursing (BSN)
Counseling, Clinical Mental Health (M.S.)
Public Health (B.A.)
Social Work (B.A.)
Nutrition Science (M.S.), Nutrition Science Track
Department
Nursing
Psychology & Counseling
Sociology & Social Work
On Friday, October 20, 2023, Hood College held an official ribbon cutting ceremony to formally unveil The Ruth Whitaker Holmes School of Behavioral and Health Sciences (SBHS). President Andrea E. Chapdelaine, Ph.D., and Tom Kleinhanzl, CEO of Frederick Health and Hood College trustee, welcomed faculty, staff, students and community partners to the newly renovated space on Tollhouse Ave., adjacent to Hood's main campus, which houses SBHS.
Several political leaders, including Frederick Mayor Michael O'Connor, Maryland State Senator Karen Lewis Young, Maryland State Delegate Ken Kerr '81 and representatives of U.S. Senator Chris Van Hollen (D-Md.) and U.S. Representative David Trone (D-Md.) presented citations of recognition to the College.
The new school was made possible thanks to a major gift from Hood alumna Ruth Whitaker Holmes '55, H'93, Ph.D., and her husband G. Burtt Holmes, O.D. The school groups together undergraduate programs in nursing, psychology, public health, sociology and social work as well as graduate-level program in counseling and nutrition science. The College also recently announced a host of new graduate programs, including a Master of Nursing Science (MSN), Doctor of Nursing Practice (DNP) and Doctor of Counselor Education and Supervision (Ph.D.), which will join the SBHS roster.
The launch of SBHS is a joint venture between Hood College and Frederick Health, the region's largest healthcare system. "Hood has had a very strong and positive partnership with Frederick Health," said President Chapdelaine. "It provides students with applied learning opportunities that prepare them for their chosen careers in the behavioral and health sciences and enable them to contribute to the well-being of the Frederick community."
Under SBHS, students will have access to state-of-the-art facilities, such as simulation labs, where they can hone their skills on mock patients, and the NeighborHood Counseling Training Center, where graduate-level counseling students offer low- to no-cost mental health services for Hood students and the Frederick community. Furthermore, these students can take advantage of experiential learning in real-world settings like primary care practices, clinics and hospitals through Frederick Health.  
"Health starts in the community," said Kleinhanzl. "Hood has a long history of training healthcare workers—that's our pipeline. I'm so proud of our partnership and what we are doing here. I know for years to come, this endeavor is going to be incredibly important to our success."
Watch a recording of the ribbon cutting ceremony here. 
Are you ready to say Hello?
Choose a Pathway
Information will vary based on program level. Select a path to find the information you're looking for!