Serving Up Sustainability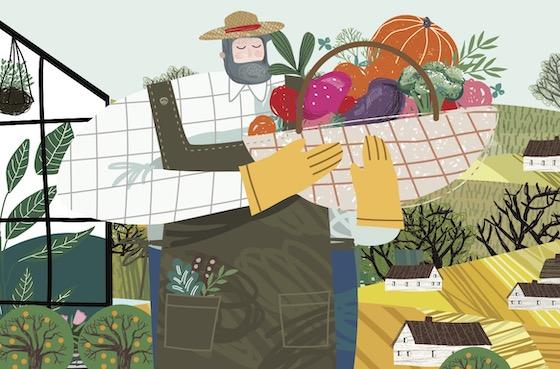 Hood alums are reshaping the way we grow, distribute and prepare food.
How Eco-Friendly Practices are Changing and Challenging the Food, Beverage and Farming Industries
The availability of resources affects the most basic aspects of our daily lives. Whether it is the water we use, the energy source powering our vehicles or the food we eat, sustainability is critical to ensuring the continued availability of these essential resources for life on earth.
Because of the increasing awareness of sustainability's role in the world today, Hood College established a sustainability studies major in fall 2020, the only one of its kind in Maryland. Professor of Biology Drew Ferrier, Ph.D., developed the program over a two-year period with other faculty members and external partners. While the College had offered an environmental science and policy major, Ferrier says something broader was needed.
Ferrier describes it as "a comprehensive program focused on human wellbeing that includes the economy, social justice and equity for current and future generations." The program features classroom and laboratory studies alongside real-world practical experiences, such as learning how to transform agricultural waste into biofuels; monitoring and documenting air and stream temperatures; and growing vegetables to address community food insecurity—the latter of which is a core function of the Frederick Food Security Network (FFSN).
The curriculum was developed based on the nexus of water, energy and food, which is examined collectively in sustainability studies. "If you look at an issue solely from a single perspective, unintended negative consequences can later occur," says Ferrier. The content draws heavily upon three of Hood's experiential learning opportunities: the Center for Coastal and Watershed Studies (water), biofuels research program (energy) and Frederick Food Security Network (food).
FFSN was established in 2019 to reduce hunger among local residents living in designated "food deserts," reduce local water pollution by diverting rooftop runoff for garden irrigation, promote local environmental stewardship and champion better eating habits. These goals are being realized through a community garden program launched by Hood that is now comprised of five partner organizations, each with onsite gardens: The Religious Coalition for Emergency Human Needs, the Islamic Society of Frederick, the Boys and Girls Club of Frederick, the Frederick News-Post and Frederick Health Hospital. Last year, food produced at these gardens supported 160 Frederick County families throughout the growing season.
Gina Gohl, FFSN manager, holds a master's degree in public health and was formerly employed by the NYC-based International Rescue Committee (IRC), which serves the needs of refugees. In that role, she oversaw the IRC's New Roots Community Farm located in the Bronx, which responded to food insecurity among local refugees. Hood's own food-producing facilities include the large outdoor garden that is tended to by students and volunteers; a greenhouse at the Scott Key Center; and a campus greenhouse featuring a hydroponic garden funded by the Ausherman Family Foundation.
Gohl says the hydroponic garden is the ultimate example of sustainability. "It reduces our water footprint, increases our growing capacity and does so with less resources." Furthermore, all five FFSN gardens serve local residents, "so there's very little distance between where the food is grown and the people who eat it." Given the tremendous amount of carbon emissions generated in the domestic and international transport of food, this is an issue of vital importance.
"There is an increasing movement to grow and purchase local food," says Gohl, which all but does away with the financial and environmental costs associated with transport, waste, processing and packaging. "Buying locally helps preserve green space and supports area farming."
That's just what Heather Dapsauski Sayler, M.S.'09 and her husband Ben are doing at Pleasant Hill Producein Walkersville, Maryland, where they grow a diverse array of vegetables on a six-acre tract of land. Sayler, who studied math, performs the farm's accounting and management roles, while her husband oversees daily operations in the field.
Sayler says the farm's crops are irrigated using a rainwater collection system and a well. "All irrigation is performed with a drip system that directs water to the roots of the plant," she says, noting its efficiency. "We cover the soil with plastic mulch, which prevents evaporation and conserves water." The Saylers also rotate crops to re-fortify the soil with nutrients and prevent erosion. "The fertilizers we do use are injected into the irrigation system so that they can be directly absorbed by the root systems of our crops."
More than half of the Sayler's yield is sold to local residents as community-supported agriculture (CSA). The rest goes to farmer's markets, wholesalers and restaurants. "COVID increased the extent of food insecurity for many families in Frederick County," says Sayler. She and Ben have responded to this by providing fresh produce to students who come from low-income families.
Sayler also saw COVID escalate the demand for fresh produce. She says the farm's CSA customer base grew significantly at the onset of the pandemic, when people were concerned about shopping in grocery stores and product availability. "We expand our operation every year to grow more food and feed more people in our community," she says.
The consumer public isn't alone in understanding the quality, convenience and cost savings of buying fresh, locally grown produce. Regional grocery stores like Giant Food and Weis Markets are principal customers of Dries Orchards, owned by Mary Jo Bzdil Dries '65 and her husband Ken in Sunbury, Pennsylvania. Their farm grows upwards of 90,000 bushels of apples each year.
A week following her graduation from Hood, Mary Jo and Ken were married. They quickly focused their resources in establishing what would become their 240-acre orchard. Although most of the farm is dedicated to growing apples, smaller crops include pears, peaches, grapes, nectarines, cherries and raspberries. "Much has changed in the 55 years since we have been farming, including sustainability practices," says Dries, a home economics major.
For large-scale operations such as theirs, the term "sustainability" also means preserving the harvest. Without proper management, there can be tremendous food spoilage on farms and orchards. Over time, the Dries have implemented the use of mobile heaters that move through the orchards to combat the frigid nighttime temperatures. Wind machines help cycle warm air closer to the ground. A metal-framed, plastic-enclosed high tunnel they erected over an acre of young cherry trees protects the fruit from hail or birds.
How do the Dries respond to pre-consumer waste, theirs being in the form of small or minimally damaged apples? They make cider—lots of it. Dries has a large cider production and bottling operation on-site and holds commercial contracts with Weis Markets and neighboring colleges.
The sustainability of farms themselves has been challenging too. Retiring farmers often have no heirs or buyers who are interested in farming. Fortunately, the Dries are in the process of turning over their orchard to younger family members.
Because of intense competition from national food producers, smaller farmers must find ways to remain profitable. For this reason, many are dedicating their fields for specialty uses—or even creating some of their own.
Tobacco Barn Distillery, established in 2014 and located in St. Mary's County, Maryland, produces bourbon, whiskey and rum on a farm that is more than 200 years old. Co-owner Jane Rathbone Sanders '79 says that Tobacco Barn is so committed to sustainability that it is the only distillery on the Maryland Green Registry.
"We grow our own corn just steps away from the distillery, which is housed in a historic barn, and purchase our rye from a local farm. Then we process it at a nearby Mennonite grist mill." Sanders says that 83 percent of all raw materials used to make their products come from less than 14 miles away, thus vastly limiting carbon emissions.
Tobacco Barn also uses solar arrays that offset much of the electricity needed to power the distillery. Three GEO thermal systems—two of which support the distillery's cooling water that is then recycled through a "closed loop" system—are integrated into the facilities. "The recycling of cooling water allows us to save approximately 640,000 gallons a year," Sanders says. The third geothermal system supports the HVAC system in the distillery's tasting room.
Spent grains used in the distilling process are given to a local farmer, who uses them to feed his cows. The grain is high in protein and has zero carbohydrates.
"When the cows see the blue barrels of spent mash arriving in the farmer's truck, they come running," she laughs.
As a long-time soil conservationist and co-owner of a farming business located near the Chesapeake Bay, Sanders is particularly sensitive to soil and drainage issues. She was a biology major at Hood before obtaining her master's degree in environmental and water resources at Vanderbilt University. "We practice 'no-till' farming, leaving the crop residue on the soil surface, which decays over the course of the winter. The root system of the remaining corn stalk helps limit erosion. We then rotate the crops with soybeans, which are high in nitrogen, one of three elements used in fertilization. This helps us reduce the amount of fertilizer we use on our crops." Tobacco Barn sells the soybean crop to the local farm co-op, where it likely ends up as chicken feed.
Since Tobacco Barn can only use their spirit-soaked barrels once, they resell them to several other Maryland businesses that use them to infuse their coffee, nut and syrup products with a whiskey flavor—a dual example of recycling and increasing profitability.
As a computer science major, Phil Bowers '83, president of Frederick, Maryland-based Fountain Rock Management Corporationand Monocacy Brewing Company, never guessed that he would own two thriving restaurants and a brewery—or face the environmental conservation issues that now have a role in the everyday operation of his highly successful Brewer's Alleyand Isabella's Taverna & Tapas Bar. "We have always looked for ways to adopt more sustainable practices," he says. "The main issue is doing so while also putting out an affordable product."
Recyclable "to-go" packaging is a major expense for restaurants. Regardless, Bowers stopped using Styrofoam years before it was mandated by the State of Maryland. "It was something our customers asked about and we felt we needed to make the change." The pandemic added further strain by dramatically increasing the national need for packaging. On the upside, Bowers notes, "COVID pushed the packaging industry into making more options for sustainable products."
Other sustainability practices he's adopted include the restaurant's participation in the Annapolis-based Oyster Recovery Partnership, in which oyster shells are collected from restaurants and returned to restored native oyster beds in the Chesapeake Bay. While he has a source that will dispose and recycle his used cooking oil, Bowers says the removal of post-consumer food waste is more challenging. He and other Downtown Frederick restaurant owners have yet to find a compost vendor that can regularly collect food waste.
COVID's impact on freight costs had both negative and positive effects on his business as well. "While it has driven up the expense of everything, higher transportation costs actually help close the price gap on locally produced foods," which have typically been higher than those purchased from regional or national food suppliers. "This allows us to use more locally grown, natural, healthy crops."
Restaurant patrons also enjoy the fresh vegetables grown on the two-acre Fountain Rock Farmin nearby Walkersville, where seasonal yields of broccoli, cauliflower, cabbage, peppers, zucchinis, eggplant, okra, asparagus, butternut squash and more than 200 tomato plants are watered using well irrigation.
Bowers says the use of locally produced foods at his restaurants is important for several reasons. "We are showing the staff our commitment to use local, natural, healthy items. Secondly, many of our employees want to work somewhere that embraces sustainable practices. I want them to feel proud about working for us."
When not at his restaurants, Bowers is checking in at nearby Monocacy Brewing Company. Founded in 2012, the brewery produces 25 to 30 different types of beer annually that are sold in Maryland restaurants and stores.
Bowers says the brewery generates very little waste. "Recyclable glass and aluminum are used in packaging. Water used to 'crash cool' the wort (pre-fermentation beer) after the boiling process can be reused for more beer brewing or other water-related needs." Like Tobacco Barn Distillery, spent grains are removed by a local cattle farmer. Even the interior finishes of the brewery's tasting room are made from recyclable bamboo, cork, sorghum and paper.
"When it comes to sustainability," says Bowers, "we are always looking to what is on the horizon."
Claudia Kemmet-Cooper '95 is the owner of Guglhupf, a German-style bakery, café and biergarten in Durham, North Carolina, that she co-founded in 1998 and followed later with the opening of the Guglhupf Bake Shopin nearby Chapel Hill. Supported by a kitchen staff of 65 employees and calling upon the business skills she learned as an interdepartmental international economics and marketing major, she serves breakfast, lunch and dinner six days a week, which include her heavenly confections.
While Kemmet-Cooper's restaurant may seem somewhat old world, there is nothing old school about her sustainability principles and practices. "The most important thing we can do is support the farmers and suppliers around us. We try to work with as many local farmers as possible. More than just quality, they also offer variety."
Kemmet-Cooper says Durham is a foodie area. "We develop seasonal menus, such as winter salads using winter greens produced locally. This limits the amount of food or produce that is shipped in." Furthermore, she says, "Everything is baked and sold on-site with minimal packaging." Overages are donated to soup kitchens.
Limiting pre-consumer waste is also a priority. "We use overripe fruits for desserts when they are available. There was a huge crop of pears last year. We got a call from a local fruit distributor and we were able to use them."
Kemmet-Cooper looks forward to producing some specialty crops, including figs, on the 42-acre farm she recently purchased. "Growing your own is the last frontier," she says.
Like Bowers' restaurants, a sizeable portion of Guglhupf's menu features no animal protein. She, too, uses eco-friendly disposables and is also still seeking a vendor to take her post-consumer recycled foods. "There is so much that can be composted," she says.
Speaking to these Hood alums, all of whom majored in different fields of study and now work in a wide variety of industries, the relationship between people, the environment and food becomes undeniable. Growing, sourcing, transporting, cooking and eating food are all connected.
By making thoughtful choices and adhering to sustainable practices, we can work towards a world free from waste and pollution. We can shape our society into one where all people have access to affordable, fresh, healthy food. For Hood's part, this involves educating and training the next generation of eco-conscious professionals, while also supporting our community with green initiatives. The journey from farm to table is evolving. Now it is our turn to do the same.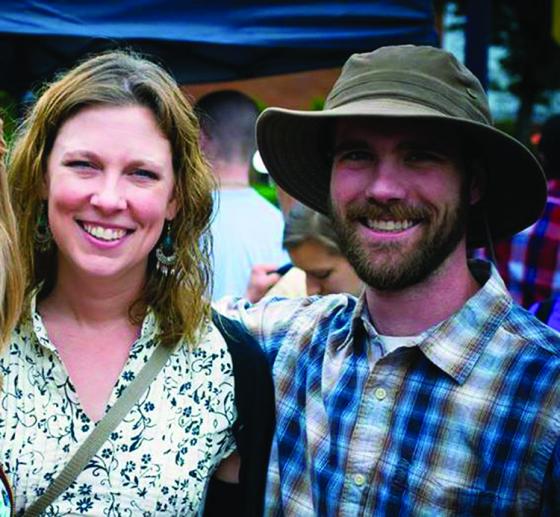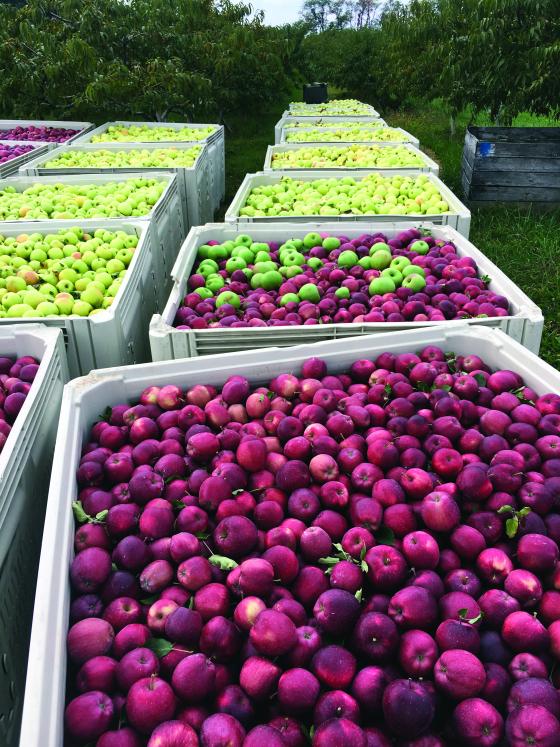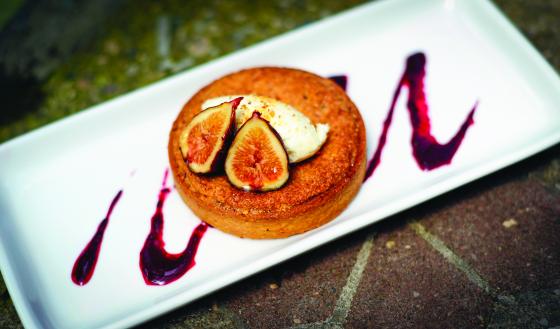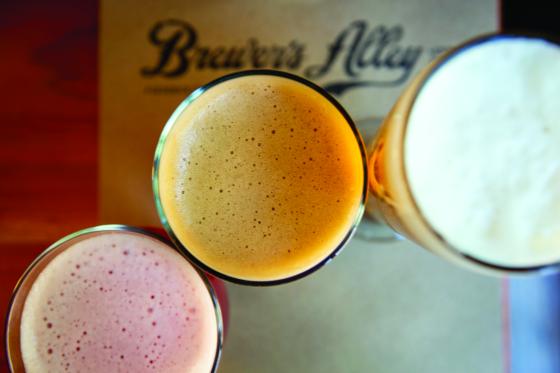 Are you ready to say Hello?
Choose a Pathway
Information will vary based on program level. Select a path to find the information you're looking for!