Spotlight on Hood College Doctorate Programs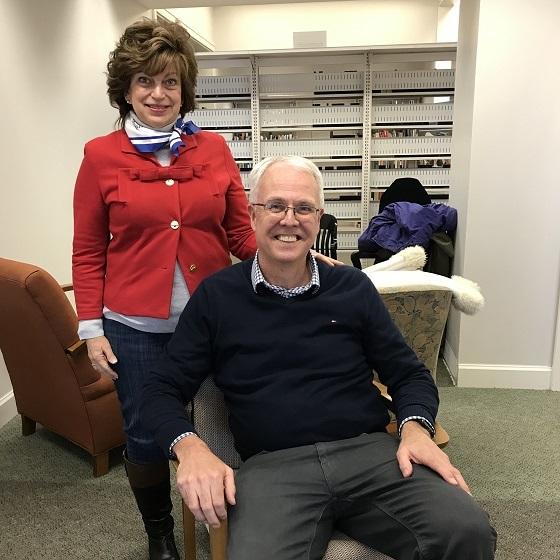 Featuring Hood College Doctoral students, Susan Glover and Philip Brown
Interview with Philip Brown and Susan Glover
Program
Organizational Leadership (Doctorate)
Business Administration (Doctorate)
Department
Philip Brown, President and CEO, Phoenix Mecano Inc., celebrated his 20th anniversary in June 2017. Before moving to Maryland to join Phoenix Mecano Inc., Philip worked as managing director of Phoenix Mecano Ltd. in the United Kingdom. Philip served as a marine engineer in the Royal Navy (UK) from 1978 to 1988. Eight years after relocating to the United States in 2005, Philip, his wife and three children became U.S. citizens in 2013. Philip also has immediate family overseas in both the UK and Australia. He enjoys spending his free time with family and supporting extracurricular, athletic, and academic activities.
Susan Glover currently serves as Senior Vice President, Chief Quality and Integrity Officer for Adventist HealthCare, located in Gaithersburg, Maryland. In this role, she is a member of Adventist HealthCare's (AHC) senior leadership team, and provides overall direction for Quality and Patient Safety in AHC. Prior to her work with Adventist HealthCare, Susan has served in various executive and nursing roles in Adventist HealthCare organizations for the past 31 years. In addition, Susan serves as the Rotary International District 7620 Chair for the Youth Exchange Program.
Can you tell me a little about your backgrounds?
Philip Brown:
I'm an engineer and originally from the UK. I served in the British Navy as a marine engineer for eleven years. I'm 57 years old, but I left the Navy in my late twenties. I did my MBA at the Henley Management College in England. I've been in presidency of businesses now for nearly thirty years. I'm president at a company here in Frederick, MD but also have a company in Mississippi and Florida. I'm heading to Switzerland on Monday night for a board meeting. I travel a lot. I'm an industrial engineer and a business man. I've lived in America now for fourteen years.
Susan Glover:
I'm Susan Glover. My background is nursing. I practiced in Critical Care nursing. I then did my graduate work in Healthcare Administration.I then moved into leadership and healthcare. I currently serve as our Chief Quality and Integrity Officer for Adventis Healthcare which is a Health System located in Maryland with our headquarters located in Montgomery County.
Why did you choose Hood College's Doctorate programs?
Philip:
Because of the cohort model.  I am in the Doctorate of Business Administration (DBA) program, and I was looking to do this in the UK about fifteen years ago. Then my group asked me to come to America, and that was obviously a big move. I had a family and three young kids then. I had to put school in the back of my mind. Then literally a brochure came across my desk about an open info session at Hood College two years ago. I came to Hood College and met Kathleen Bands, Ph.D., DBA program director. I would not have enrolled without the cohort model. If this had been a distance learning online program, I would not have invested in this program. We are all professionals working very hard with families and professional lives. I've learned so much from my colleague Susan and the rest of the class. I hope I've given something back. The timing and the stars aligned, but the cohort model was the key for me.
Susan:
I knew I wanted to do a terminal or doctoral degree in leadership. I actually went online looking for programs. I determined that I wanted to have a Doctorate in Organizational Leadership (DOL). Hood College came up in my search as a local college and the program had the cohort model. I was aware of programs that were distance learning or had groups that came together three or four times a year. I saw the value of it not only being a cohort but the intentionality of selection of a cohort coming together because we have a lot of diversity in our cohort in terms of professional backgrounds, and age. We are eighteen people who are about as different as we possibly could be. We wouldn't normally probably have the opportunity to get to know each other otherwise.
Can you tell me about your current Doctoral projects?
Susan:
Our project this semester is to think about leadership in the role of governance. So we all had the opportunity to select a governing board that we would want to study. We are using a theoretical framework focused on the six dimensions of an effective governance system. So using that as our framework, we had the ability to design an interview, conduct the interview, observe the board in action, and then review documents that are related to the governance of that organization. Right now we have done our data collection, and we're in the process of identifying the themes that have come out of our data collection from those three sources. Ultimately we will make not only an assessment but make recommendations for potential improvements.
Philip:
I'm very privileged that Susan has partnered with me and allowed me through her organization to have very deep insight into the healthcare system. There are eighteen people in the class, and I think fourteen are in the DOL program and just four in the DBA program. The class we are in now is called governance which is not in the DBA schedule. I specifically asked to come into this class because at this stage in my career, I am looking into what I want to do when I retire. I want to give business skills back into a voluntary or non-profit organization. One of my goals in coming into this course is that I want to know more about the mission side of non-profit organizations. Clearly in for-profit organizations it is much more about the shareholders and returning investment. There are a lot of parallels between non-profit and for profit organizations. It is a tremendous insight and learning opportunity for me and the whole class.
Is there anything else that you would like to share about your experience in the programs?
Susan:
I appreciate the extraordinary intentionality in how the DOL program was put together; how cohorts are formed and selected. It is parallel to selecting a group of trustees. You want to create cohesiveness and have people with different viewpoints and expertise. When you get into the three years of coursework, it has been very clear to me and to other cohort members that there has been a lot of intentionality with how the courses have been mapped out. In each course you learn a different skill set. It's not just what the courses are, but the timing of the courses as well. You are building this structure and you start on the inside and learn about leadership. We are now on the outside studying leadership at a governance level.
Philip:
We are advocates for the DOL and DBA programs. I have been to program recruitment events with Kathleen Bands, Ph.D.. I have helped with recruiting the class of 2022. I enjoy sitting with six people, and we talk for an hour and then have a presentation. We are here every Saturday. That's forty Saturdays a year we are here from eight in the morning to four in the afternoon. We have people in the class who have young infant children. I don't know how they do it. I have the highest level of respect for them. Once you get into that momentum and your family synchronizes with you, that is the biggest transition. I have met some remarkable people looking to come into the class of 2022, but I have been very honest with them because I wouldn't want someone to walk into this and suddenly realize that classes are on Saturdays.
Do you have a favorite memory from the program you would like to share?
Philip:
Not a singular memory, but I have to say the cohort model. It seems like a default button I am pressing here right now. I am very good friends with Susan and the rest of the cohort. I come from a military background. It was a male-male environment. This class is just so rich. I am not just saying the cohort because they are friends of mine. I was just in there now listening to some of my friends, and I think "gosh" "wow" I would not have thought of that. I listen to them, and I absorb it. You can't get that online. There is a saying years ago and I'll show my age here, "you can't fax a handshake or a smile." It's about seeing a person. You can't learn online what we are doing here in our cohorts. Yes, the coursework and readings are there with online learning, but you can't absorb what other people are saying as you are sitting there. I'm just listening and taking it all it. That's my biggest takeaway.
Susan:
My favorite memory is the project work with my cohort. Some of us are very organized, and we decided on what our cadence was going to be. We had evening video calls so we can see each other. One evening we all brought our dogs to the table. There are three of us who have little white dogs. We all had our dogs, and they had their showing for a moment. One time I took a team call, and I was in Toronto. I made the team call, and we had someone else in Thailand who was hugging an elephant. We put that picture in our presentation.

Inspired by Philip and Susan's interview to #GOFURTER in your education and career? Learn about Hood College's Doctorate programs in Organizational Leadership and Business Administration by clicking here. 
Are you ready to say Hello?
Choose a Pathway
Information will vary based on program level. Select a path to find the information you're looking for!