We Are What We Eat | Careers in Sustainable Nutrition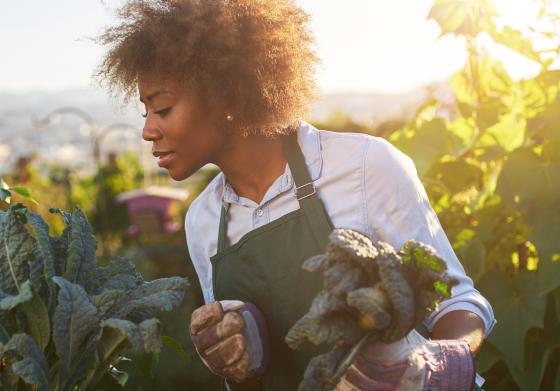 Learn about the growing field of sustainable nutrition with a master's nutrition science.
Nutrition Science, M.S.
Program
Nutrition Science (M.S.), Sustainable Nutrition Track
Department
Sustainability is a hot topic these days. Whether it's the clothes we wear or what we buy at the grocery store, consumers are more environmentally and health conscious than ever. As a result, there is increasing demand for sustainability experts in a variety of diverse fields. Nutrition and diet are no exception. That's because what we eat affects our planet's health as much as it affects our own health.
Sustainable nutrition has to do with the ability of food systems to effectively nourish a population. Did you know that the global population is expected to reach 10 billion people by 2050? At our present consumption rate, that would require three times the amount of food produced on earth.Sustainable food systems provide essential nutrients that keep people healthy without negatively impacting food production for future generations. In other words, it reduces the environmental harm caused by food production and promotes people making smart choices about what they eat and where they source their food.
Hood College has recently launched an exciting new program—the M.S. in nutrition science. One of the program's unique tracks is sustainable nutrition. Although this track is specialized, courses cover a wide range of topics. From studying ecosystems and agriculture to nutritional health policy and the economics of food production, the sustainable nutrition program offers a well-rounded education in this rapidly growing discipline.
What exactly can you do with a master's in sustainable nutrition? Many opportunities exist for careers that align with sustainable nutrition in both the for-profit and nonprofit sectors. Potential areas of employment include: 
Food Production

and Technology

Education 

Farming and Agriculture 

Research and Development 

Horticulture 

Conservation and Preservation 

Food Science 

Advocacy and Policy 
Across the board, careers in environmentally focused occupations are on the rise. The Bureau of Labor Statistics (BLS) projects widespread growth for jobs related to helping the environment or conserving natural resources, with stronger annual wages than the median average. Likewise, careers in nutrition are growing, while dietitians and nutritionists earn competitive salaries. When you hold a master's degree, those salaries are even higher.
There's never been a better time to pursue a career in sustainable nutrition. If you care about improving people's health and wellness, or you're passionate about moving society toward a green future, consider the M.S. in sustainable nutrition at Hood College.
Request Information or Apply Now for Spring 2023.
Are you ready to say Hello?
Choose a Pathway
Information will vary based on program level. Select a path to find the information you're looking for!