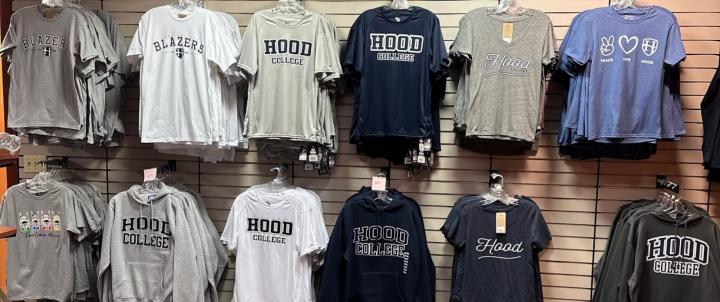 The Hood College Gear Shop is now open online and on the first floor of the Whitaker Campus Center.
The Gear Shop offers a wide variety of branded merchandise and apparel, as well as an established presence on campus around student engagement and recruitment events. Show your Hood Pride all year long with our authentic assortment of collegiate apparel.
For books and other course materials, eCampus.com's online solution is completely online through 24/7 access on a customized website.
In spring 2023, Hood entered a new partnership with University Gear Shop and eCampus.com to oversee all the needs of traditional college bookstore. By moving course materials online, the physical space will more than double the retail space with affordable and exciting merchandise. The space will be renovated in summer 2023 and will have a new look for the start of the next academic year. 
Gear Shop Hours
Monday-Friday, 9 a.m.-5 p.m.
Closed when College offices are closed
Gear Shop Contact
eCampus Contact
More Information
The Hood ring, which students begin wearing as juniors, symbolizes a bond between Hood alumni and students who will graduate in years to come. They're great conversation starters when students spot folks wearing Hood rings out in the world—which they often do, miles from campus. Juniors first don their Hood rings at a ring ceremony which is attended by family and friends. 
If you would like to purchase a Hood ring, orders may be arranged through Herff Jones or at the Hood College Gear Shop in the Whitaker Campus Center at 301-696-3480 or gearshop@hood.edu. 
Are you ready to say Hello?
Choose a Pathway
Information will vary based on program level. Select a path to find the information you're looking for!