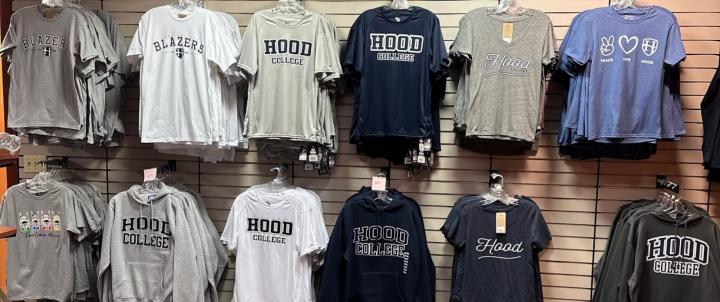 The Hood College Gear Shop is now open online and on the first floor of the Whitaker Campus Center.
The Gear Shop offers a wide variety of branded merchandise and apparel, as well as an established presence on campus around student engagement and recruitment events. Show your Hood Pride all year long with our authentic assortment of collegiate apparel.
For books and other course materials, eCampus.com's online solution is completely online through 24/7 access on a customized website.
In spring 2023, Hood entered a new partnership with University Gear Shop and eCampus.com to oversee all the needs of traditional college bookstore. By moving course materials online, the physical space will more than double the retail space with affordable and exciting merchandise. The space will be renovated in summer 2023 and will have a new look for the start of the next academic year. 
Gear Shop Orientation and Welcome Back Hours
Saturday, August 19: 10 a.m.-3 p.m.
Sunday, August 20: 11 a.m.-4 p.m.
Monday, August 21 - Friday, August 25: 9 a.m. - 6 p.m.
Saturday, August 26 - Sunday, August 27: 10 a.m.- 12 p.m.
Gear Shop Hours
Monday-Friday, 9 a.m.-5 p.m.
Closed when College offices are closed
Gear Shop Contact
eCampus Contact
Direct2U (ordering for departments, offices & teams)
As part of our partnership with University Gear Shop (UGS), all orders for merchandise for clubs, organizations, departments, etc. must go through UGS. Please contact the Gear Shop manager to start your order.
Do I need approval from the College prior to proceeding with a quote and/or order?
Yes. Please obtain approval from your department or student life prior to proceeding with a quote.
Additionally, please receive approval from marketing and communications on all College logos and word marks  that are being submitted for imprinting, using the Logo Usage Approval form.
How many products can I order?
You can select as many products as needed. The minimum quantity order for apparel is 12 pieces for each logo that you want imprinted. Please note that if a logo needs to be resized for multiple pieces of apparel, that counts as 2 different logos. The minimum quantity for branded hardgoods like bags, pens, drinkware and desk accessories varies. We will let you know the minimum quantities based on the products you are interested in purchasing.
Who selects the products?
You select the products based on your needs. For ideas on various merchandise, refer to our online catalog. Our team can provide guidance if you have any questions. Please note that products are subject to change based on availability and we will provide alternative options for your review and approval should the need arise. If you have a specific product that's not in the catalogue, simply notify your Gear Shop manager and share the product you want.
How long will it take to receive my products?
Typically, 10 – 14 business days after the order is placed unless otherwise quoted. Or goal is to meet your deadlines so allowing enough time for merchandise allocation, imprinting and shipping is critical to meeting your needs.
The Hood ring, which students begin wearing as juniors, symbolizes a bond between Hood alumni and students who will graduate in years to come. They're great conversation starters when students spot folks wearing Hood rings out in the world—which they often do, miles from campus. Juniors first don their Hood rings at a ring ceremony which is attended by family and friends. 
If you would like to purchase a Hood ring, orders may be arranged through Herff Jones or at the Hood College Gear Shop in the Whitaker Campus Center at 301-696-3480 or gearshop@hood.edu. 
Are you ready to say Hello?
Choose a Pathway
Information will vary based on program level. Select a path to find the information you're looking for!