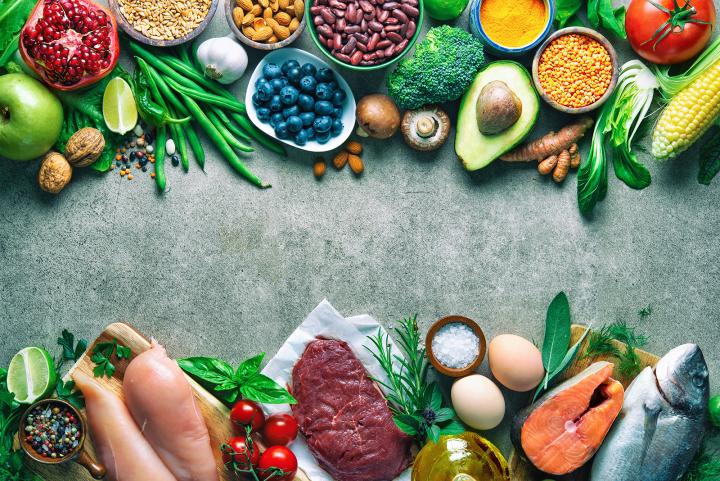 About this Program
The cutting-edge nutrition science track prepares you for evidence-based practice and board certification.
Program Overview
Deeply rooted in chemistry, biology and the social sciences, nutrition is the study of nutrients and bioactive compounds in the foods we eat. Through analyzing their metabolic and physiological function, nutritionists and dietitians work to prevent and treat a range of diseases and conditions.
Our program trains you to understand the relationship between diet, health and disease. You will be prepared to work within a wide range of related fields, including dietetics, clinical nutrition, food security, molecular nutrition, public health, nutritional biochemistry and immunology. Courses are offered in a hybrid format (combination of in-person and online courses).
The nutrition science track is designed to help prepare you for evidence-based advanced practice, perfect for registered dietitians who wish to enhance their credentials. Areas of study and research include precision nutrition, diabetes, obesity, immunity, cardiovascular diseases and cancer prevention. This track prepares graduates to become a board-certified nutrition specialist (CNS), which does not allow individual counseling in the state of Maryland.
*Click here to listen to a conversation with Dr. Anne Davis, Assistant Professor and Director of Nutrition Science, on the Degree Further Podcast.
Related Graduate Programs
Are you ready to go further?
1) Statement of Purpose (no greater than 2 pages, double-spaced) that discusses:
Why you chose your field of interest
Why you are prepared for graduate school
Why you feel graduate school is necessary for you
Why you chose this graduate school in particular
What you hope to achieve in your program and with your degree
2) A baccalaureate degree in nutrition from an accredited institution with a cumulative GPA of 3.0 or above.
or
A baccalaureate degree from an accredited institution with a cumulative GPA of 3.0 or above and completion of the following prerequisite courses with a grade of C or better: chemistry, organic chemistry, biochemistry, anatomy and physiology, introduction to nutrition or principles of nutrition, and food science of experimental foods.
Applicants who have an undergraduate GPA below 3.0, must also submit two letters of recommendation (letters can be emailed to gofurther@hood.edu).
A total of 32 credits are required for the nutrition science track. 17 core credits and 15 electives are required.
Program Requirements:
Core (17 Credits Required)
NUTR 505 - Leadership, Management and Advocacy, Seminar (2 credits)
NUTR 506 - Global Health and Nutrition (3 credits)
NUTR 509 - Program Planning, Management and Evaluation (3 credits)
NUTR 512 - Nutritional Genomics & Microbiome (3 credits)
NUTR 579 - Nutrition Independent Study (3 credits)
MATH 500 - Research Method/ENV 505 Biostatistics/BIFX 503 Statistics for Bioinformatics (3 credits)
Total Core Credits: 17
Electives (15 Credits Required)
NUTR 500 – Sustainable Food Systems and Food Security (3 credits)
NUTR 503 - Pathophysiology & Pharmacology (3 credits) 
NUTR 504 - Advanced Nutritional Biochemistry Seminar (2 credits)
NUTR 530 – Health Communication (3 credits)
NUTR 556 - Healthy Aging (3 credits)
NUTR 599 - Special Topics in Nutrition (3 credits)
ENV 501 - Introduction to Environmental Biology (3 credits)
SUS 415/NUTR 515 - Urban Agriculture (3 credits)
SUS 410/NUTR 510 - Bioengineering for Sustainability (3 credits)
BMS 512 - Biochemistry of Intermediary Metabolism (3 credits)
Total Elective Credits: 15
Upon completion of this concentration, you will be able to:
Demonstrate understanding of anatomy, physiology, biochemistry and social sciences in relation to food and nutrition.
Apply knowledge of pathophysiology and nutritional biochemistry to physiology, health and disease.
Understand environmental, molecular factors (e.g., genes, proteins, metabolites) and food in the development and management of disease.
Gain a foundational knowledge on public and global health issues and nutritional needs.
Apply knowledge of social, psychological and environmental aspects of eating and food. 
Use scientific methods and ethical research practices when reviewing, evaluating and conducting research.
Demonstrate effective leadership, communication, collaboration and advocacy skills.
Career Outlook
The Bureau of Labor Statistics projects 11% growth for nutritionist and dietitian jobs by 2030, faster than the national average.
Top-Level Credentials
Our Accreditation Council for Education in Nutrition and Dietetics (ACEND) accredited program equips you with expert training as prioritized by the Academy of Nutrition and Dietetics and the American Society of Nutrition.
Local Connection
Frederick Health, Frederick County Public Schools, Adventist HealthCare and Kaiser Permanente are among numerous regional organizations that actively recruit dietitians and nutritionists.
Program Contact
Office: 301-696-3601 Cell/WhatsApp: 240-651-4015