Dean of Grad School Joins National Mental Health Committee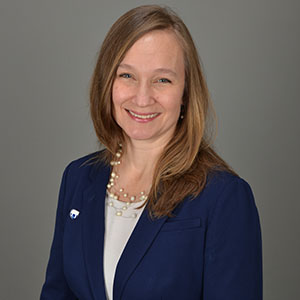 Hood College's Dean of the Graduate School, April Boulton, Ph.D. has been accepted to be a part of the Council of Graduate School's workshop program in Washington, D.C. 

The Council of Graduates Schools, located in Washington D.C, is the only national organization in the United States dedicated solely to the advancement of graduate education and research. 

 In partnership with the JED Foundation, a nonprofit organization committed to protecting emotional health and preventing suicide for teens and young adults, the Council of Graduates Schools is hosting a stakeholder workshop for Supporting Graduate Student Mental-Health and Well-Being with support from the Alfred P. Sloan Foundation and the Andrew W. Mellon Foundation. 

Evidence indicates that mental health challenges are common among graduate school students, and campus services do not always recognize the support graduate students need regarding mental health.

"Higher education has done a phenomenal job of identifying and providing the academic and support services that help undergraduate students thrive at college," Boulton said. "We want to understand and support the unique challenges graduate students experience their degree work."

This virtual conference will be held Thursday, Oct. 15 through Friday, Oct. 16. In collaboration with various graduate deans, graduate students, and mental health experts, Boulton's research and findings on graduate students' needs on Hood's campus will assist with writing and finalizing a statement of common principles for supporting graduate student mental health. Preliminary findings show that COVID has exacerbated graduate student stressors, such as concerns with career advancement, work-life balance and generalized anxiety. 
Boulton shared that "this is an exciting initiative that will allow us to identify and better support graduate students, who typically juggle full-time jobs and caregiver responsibilities while pursuing a graduate degree."    

Hood College is an independent, liberal arts college, offering more than 25 bachelor's degrees, four pre-professional programs, 19 master's degrees programs, two doctorates and 10 post-baccalaureate certificates. Located in historic Frederick, near Washington, D.C., Baltimore and the I-270 technology corridor, Hood gives students access to countless internships and research opportunities.

 
Media Contact