Delaplaine Foundation Grants Reading Clinic $16,000
Money will go toward scholarships and operations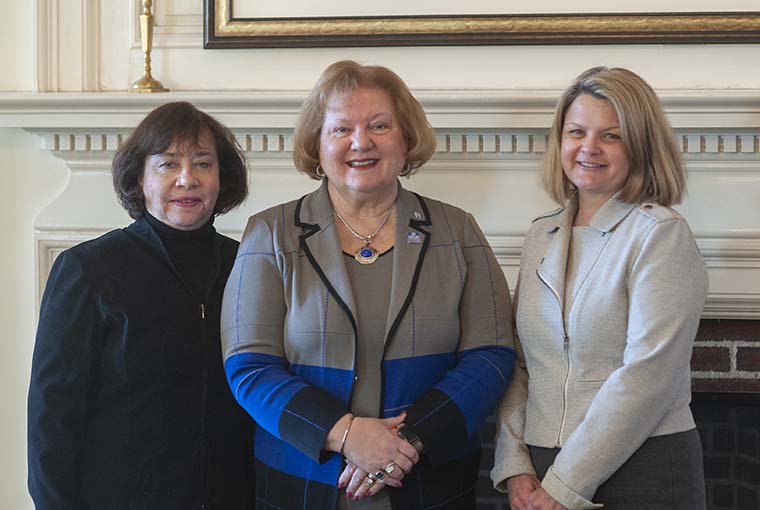 FREDERICK, Maryland—Delaplaine Foundation, Inc., has awarded the Hood College Summer Reading Clinic $16,000 for tuition scholarships, learning materials and operations.
The Summer Reading Clinic at Hood College is the internship site for students enrolled in the Master of Science in Reading Specialization program, and it has been an integral part of the degree program for more than 30 years. Master's degree students serve as clinicians for children in elementary and secondary schools to gain experience teaching literacy skills to students of all ages.
This grant will allow scholarships from three Frederick institutions and Hood College partners: the Boys and Girls Club of Frederick County, the Waverley Elementary English Language Learners program and the Parkway Elementary English Language Learners program. The grant will also allow for a translator who will help communicate between clinicians and the parents of English language learners.
"We are so appreciative to Delaplaine Foundation, Inc., for supporting the Reading Clinic," said Clinic Director Ellen Koitz, Ed.D. "The grant makes it possible for many children, who might not otherwise be able to attend the clinic, to spend the summer improving their literacy skills and confidence as readers and writers."
To gain acceptance to the clinic, children must be remedial readers, reading at least one grade level below their current school placement. An analysis of reading comprehension, fluency, writing and spelling is followed by prescriptive instruction designed to meet each child's academic success needs.
"Delaplaine Foundation, Inc., has been pleased to support Hood's Summer Reading Clinic for nearly a decade," said Foundation President Marlene B. Young. "We've witnessed first-hand the powerful difference that the Summer Reading Clinic makes in the reading level proficiencies and self-confidence of the students who attend. Post-clinic statistics have confirmed that students have advanced anywhere from a half grade level to more than a full grade level as a result of this clinic. We are proud to partner with Hood College in this powerful program."
For the fifth year, Hood College seeks to broaden the impact made during these important summer weeks by partnering with the Boys and Girls Club for year-round involvement. During the fall and spring semesters, Hood undergraduates serve as paid interns at Boys and Girls Club sites as mentors and tutors. This collaborative effort impacts a broad range of students while strengthening the educational experience for Hood's students.
In summer 2019, the Reading Clinic hosted eight master's candidates who worked with students at a ratio of four-to-five students per clinician in the elementary clinic and two students per clinician in the secondary clinic. Approximately 10 clinicians, 20-25 elementary students and 20 secondary school students are expected to participate during the summer 2020.
Delaplaine Foundation, Inc., is a private family foundation based in Frederick, Maryland, dedicated to the enrichment of communities and families within Maryland, nearby states and the District of Columbia by supporting programs to strengthen the arts and sciences, historical preservation, educational advancement, spiritual enlightenment and well-being. This foundation has been supporting Hood's Summer Reading Clinic since 2012.
Hood College is an independent, liberal arts college, offering 28 bachelor's degrees, four pre-professional programs, 19 master's degrees programs, two doctorates and 10 post-baccalaureate certificates. Located in historic Frederick, near Washington, D.C., Baltimore and the I-270 technology corridor, Hood gives students access to countless internships and research opportunities.
Media Contact
Grants and Scholarships
Graduate School
Community Partnerships
Education Graduate Programs