Delaplaine Foundation, Inc. Awards Hood College Reading Clinic $18,000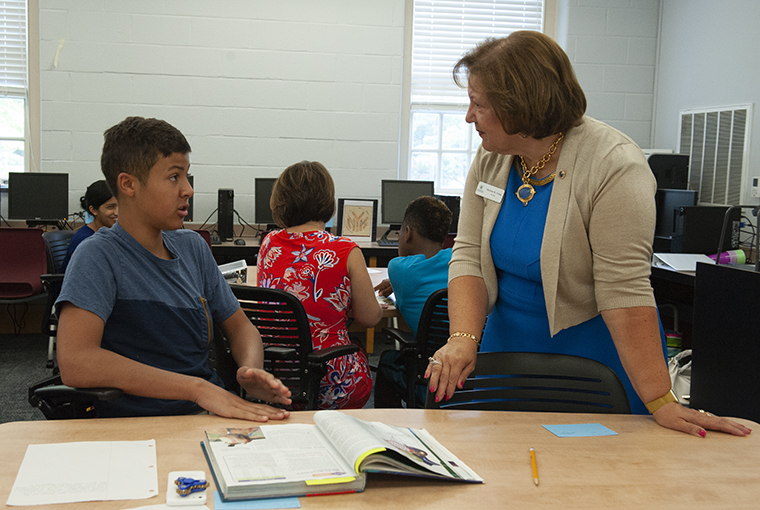 FREDERICK, Maryland—Delaplaine Foundation, Inc. has awarded $18,000 to Hood College's Summer Reading Clinic to fund scholarships for students and materials for the clinic. Hood's Summer Reading Clinic has been supported by Delaplaine Foundation, Inc. since 2013.
This year, Hood is once again partnering with the Boys and Girls Club of Frederick County and the English Language Learners program at Waverley Elementary School. In addition this year, Hood is partnering with Parkway Elementary School to provide four additional scholarships to English Language Learners. The grant also will fund books and other materials for all age ranges and reading levels, and it will help update technology that has been used for past clinics, including iPads and computer software.
The students who attend the clinic are taught by teachers pursuing a Master of Science in Reading Specialization at Hood who have earned their teaching certificate and will have three or more years of teaching experience by the time the master's degree is conferred. The clinic is directed to the reading needs of all school children (K-12). A supervised experience in the reading clinic is the capstone to a course sequence that provides breadth and depth in reading specialization and reinforces understanding of concepts taught in classes. Graduation from this program leads to Maryland certification as a reading specialist.
The program gives clinicians the opportunity to see the continuum of reading as they teach children in all grade levels, and it provides children in Frederick an opportunity to improve reading, writing, spelling and word study skills.
"This program is well known throughout the county and has improved the reading skills of hundreds of children," said Ellen Koitz, associate professor of education at Hood and director of the clinic. "Since reading is a foundational skill that elevates all academic subjects, improving literacy skills has allowed students who have completed the program to improve their performance in grades K-12. The reading clinic goes far beyond simply warding off summer remission; rather it accelerates students' levels of literacy."
The clinic has been an integral part of the Master of Science in Reading Specialization program for more than 30 years. Last summer, the program accommodated 12 master's degree candidates who worked with students at a ratio of four or five students per clinician in the elementary clinic and two students per clinician in the secondary clinic. Approximately 10 clinicians are expected to participate during the summer 2019. The clinic will host 20-25 students at the elementary level with an additional 20 at the middle and high school level.
"We appreciate this opportunity to support a program that benefits children and graduate students," said Marlene Grossnickle Young, president of Delaplaine Foundation, Inc. and member of the Board of Trustees at Hood College. "Children are our future, and we enjoy helping that future blossom through reading."
Media Contact
Tommy Riggs
Assistant Director of Marketing and Communications
Grants and Scholarships
Community Partnerships
Education Graduate Programs
Graduate School