Enactus Club Created Care Packages for Those in Need
Packages included food and hygiene products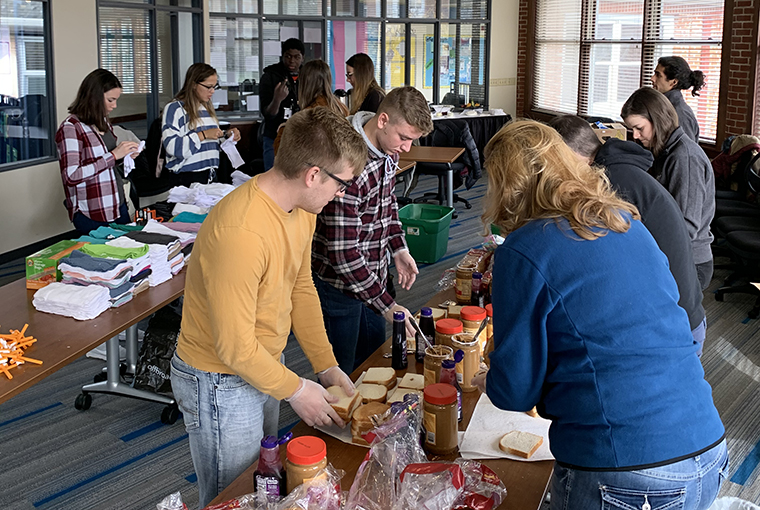 FREDERICK, Maryland—The Hood College Enactus Business Advisory Board and student members of the Enactus club came together for the third annual Breakfast with a Purpose on Nov. 9. Members of the community and approximately 14 volunteers from Hood prepared a record 500 care packages for those in need at the Frederick Rescue Mission.
Each year during Breakfast with a Purpose, Hood's Enactus team and advisory board have a networking breakfast with leaders in the community. Then, they make food and hygiene packages together and pass them out at the Frederick Rescue Mission.
"The opportunity to network with business professionals all while giving back to those in our community is such a great experience," said junior Jenna Frick, president of the Hood College Enactus club. "Oftentimes, it's easy for college students to become consumed in classes and projects, but events like Breakfast with a Purpose help ground us and inspire us to make a change in the world. Even if it starts as something small, we can all make an impact."
Thanks to the generous support of the Frederick Wegmans grocery store, Walmart, the Ausherman Foundation, and the Hood College Career Center, volunteers prepared two types of care packages: food packages, including a full meal (sandwich, chips, water and a granola bar); and hygiene packages, consisting of socks, washcloths and shaving razors, including materials for children. As winter approaches, items such as clean and warm socks remain the highest need for the Rescue Mission. Carolyn Chandler, volunteer coordinator at the Frederick Rescue Mission, coordinated the distribution of care packages.
"It's exciting to see students and community leaders come together for a morning of volunteering for those in need in our community," said Hood alumna Ana Filipovic Windsor '16, organizer of the event and coordinator of the Enactus Business Advisory Board. "Each year, we aim to serve more people, and for next year, we'd love to come up with more sustainable solutions for our packages. If you or your organization would love to join this effort, please don't hesitate to reach out to us at enactus@hood.edu."
Enactus is a worldwide community of student, academic and business leaders committed to using the power of entrepreneurial action to transform lives and shape a better, more sustainable world. Hood College Enactus provides opportunities for students interested in the business, management and entrepreneurship fields to utilize their skills and create projects to help the Frederick community and beyond. The Enactus Business Advisory Board supports and advises students on such projects.
Hood College is an independent, liberal arts college, offering 28 bachelor's degrees, four pre-professional programs, 19 master's degrees programs, two doctorates and 10 post-baccalaureate certificates. Located in historic Frederick, near Washington, D.C., Baltimore and the I-270 technology corridor, Hood gives students access to countless internships and research opportunities.
Media Contact
Tommy Riggs
Assistant Director of Marketing and Communications