Frederick Food Security Network Awarded Grant from Delaplaine Foundation, Inc.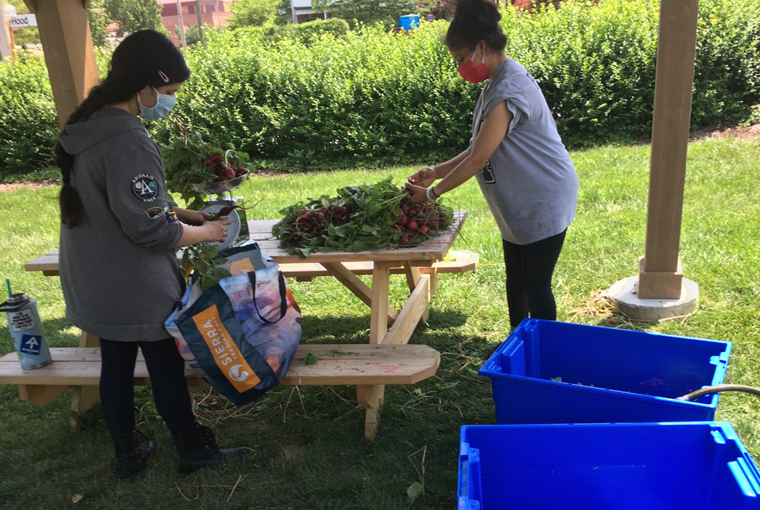 FREDERICK, Maryland—Delaplaine Foundation, Inc., has awarded Hood College's Frederick Food Security Network (FFSN) $7,500 in COVID-19 emergency funds to hire two agricultural assistants during the peak of the growing season for 10 weeks. These hires will allow the FFSN to provide fresh produce to the people who need it most.
"This generous donation from Delaplaine Foundation, Inc., will allow us to hire two students to help in our five community gardens and three greenhouses," said Claire Hudson, interim FFSN program manager. "This donation couldn't have come at a better time. It will allow us to keep our operations going during this trying time, and it will give our students, who have either lost their jobs or internship opportunities, the chance to help in their community."
Delaplaine Foundation, Inc., is one of the community funders that comprise the COVID-19 Philanthropic Funders Collaborative (COVID Collaborative), which also includes the Community Foundation of Frederick County, United Way of Frederick County, Ausherman Family Foundation, Helen J. Serini Foundation, Women's Giving Circle of Frederick County, and Kahlert Foundation.
"Delaplaine Foundation, Inc., has written more than 60 emergency relief grants in the community over the past 10 weeks to help meet urgent needs during the COVID-19 pandemic," said Delaplaine Foundation President Marlene B. Young. "Of vital importance has been the focus on food insecurity during this crisis and consequently, supporting the community gardens and greenhouses of the Hood College Frederick Food Security Network was one of several food security grants we issued. This initiative is critical year-round, and especially during the pandemic. We applaud Hood College in this effort as the food provided along with the invaluable student experience it affords make a powerful impact in meeting community needs and enriching student outcomes."
Hood College is an independent, liberal arts college, offering more than 25 bachelor's degrees, four pre-professional programs, 19 master's degrees programs, two doctorates and 10 post-baccalaureate certificates. Located in historic Frederick, near Washington, D.C., Baltimore and the I-270 technology corridor, Hood gives students access to countless internships and research opportunities.
Media Contact
Grants and Scholarships
Community Partnerships