George B. Delaplaine Jr. endows Robert E. and Ruth M. Delaplaine Scholarship in memory of Uncle
FREDERICK, Maryland (February 12, 2021) —The Robert E. and Ruth M. Delaplaine Scholarship was first established in 1955 through a bequest from former member of the Hood College Board of Associates Robert E. Delaplaine. 
Since its creation, the scholarship had been expanded by gifts from Ruth M. Delaplaine, Class of 1906, and is now fully endowed courtesy of a contribution by George B. Delaplaine, Jr., H '08, chairman of the Delaplaine Foundation Inc.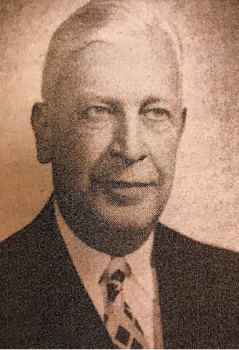 As co-manager of the Frederick News-Post alongside his brother William, Robert Delaplaine was known for being a stern and dynamic leader who not only helped to grow the family newspaper business, but was also a prominent figure in banking organizations and local civic groups. It was Robert who handed the torch to George Jr. before passing in 1955.
"As the gift that my Uncle Robert gave to first establish the scholarship came into Hood well before those of his brothers, the recent contribution was made to make the scholarship bearing Uncle Robert's name more equitably equivalent to the monetary values of the scholarships in the names of his brothers William and Edward," said George Jr.
The Delaplaine family shares close ties with Hood, as George Jr.'s mother, Ruth Carty Delaplaine, graduated from Hood in 1913, and his sister, Frances "Franny" Delaplaine Randall, graduated from Hood in 1945. He and his late wife, Bettie, whom he met while she worked as an assistant in Hood's biology department, both received honorary degrees in 2008. In all, the Delaplaine and Randall families have 12 alumni, including from the Frederick Female Seminary (Hood's precursor), and they have had two members on the Board of Trustees and five members on the Board of Associates.
George Jr. was recently honored with the President's Medal for Hope after providing a major gift to fund the George B. Delaplaine Jr. School of Business. The school will serve as a dedicated space for Hood business students as well as a hub for social entrepreneurship in the community. Students at the undergraduate, graduate and doctoral levels will have the opportunity to move beyond the classroom and into the lives of others.
The scholarship is awarded each year to a student considered most likely to succeed in the profession of journalism. With the scholarship now fully endowed, the allocation of the prize is set to increase later this summer and will be awarded through financial aid. This fund is one of four endowed undergraduate scholarships that share the Delaplaine name.
Donations to this scholarship can also be made through the Office of Institutional Advancement by contacting the director of leadership giving via phone at 301-696-3708 or via email at vanderwoude@hood.edu.
Media Contact
Grants and Scholarships
Graduate School