Greighson Rowe Awarded National Scholarship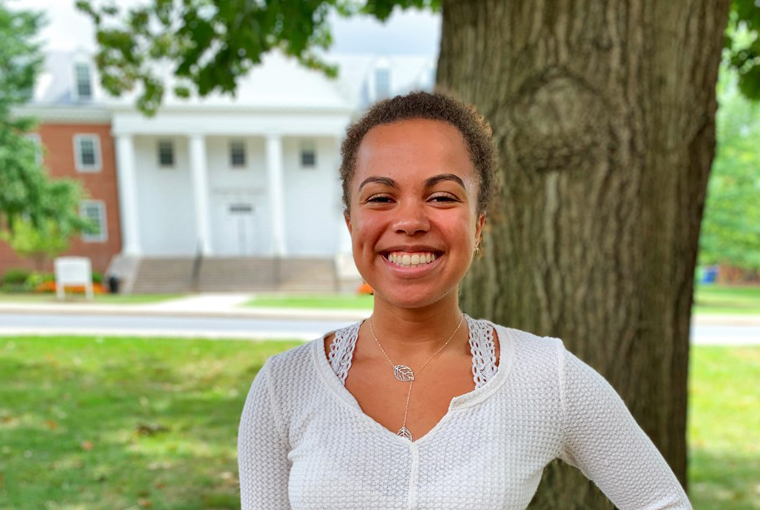 From Alpha Lambda Delta, the National Honor Society for First-Year Success
www.nationalald.org
FAIRPORT, New York – Dr. Sharon Emerson-Stonnell, National President of Alpha Lambda Delta, The National Honor Society for First-Year Success, announced that a Jo Anne J. Trow Scholarship in the amount of $1,000 has been awarded to Greighson Rowe, a student at Hood College. The scholarship is for the 2020-21 academic year. Rowe is a Psychology and Spanish dual major. On campus and in the community, Rowe is Treasurer for Hood's Alpha Lambda Delta chapter, Vice President of Psi Chi International Honor Society in Psychology, and a Volunteer Research Assistant for both the Dr. Molly Moreland's Memory and Decision-Making Laboratory and the Dr. Diane Grave's SStem Grant.
This year, Alpha Lambda Delta awarded 50 Trow scholarships to outstanding students from across the country. The scholarships currently offer five $6,000 awards, ten $3,000 awards, ten $2,000 awards and twenty-five $1,000 awards. Selection is based on maintaining a 3.5 grade point average, academic records, participation in Alpha Lambda Delta activities, campus and community service activities, and the applicant's essay answers. The national selection committee was faced with a difficult task as there were a record-breaking number of qualified applicants this year.
The Jo Anne J. Trow Scholarship was started in 1988, in honor of a past National President of Alpha Lambda Delta. Jo Anne J. Trow is the former Vice President for Student Services at Oregon State University. Trow served National Alpha Lambda Delta as a District Advisor from 1974 to 1979, as National Secretary from 1979 to 1983, as Presidentelect from 1984 to 1985, and as National President from 1985 to 1988. During her presidency, the Society's governing body, the National Council, was restructured to provide more streamlined operations.
Alpha Lambda Delta
Alpha Lambda Delta is a national honor society that recognizes students' academic success during their first year at a college or university. Founded in 1924, Alpha Lambda Delta has over a million lifetime members and is present on over 280 campuses nationwide. Alpha Lambda Delta's mission is to "encourage superior academic achievement, to promote intelligent living and a continued high standard of learning, and to assist students in recognizing and developing meaningful goals for their unique roles in society."
For more information, contact Trish Maxwell at trish@nationalald.org or 585-364-0840.
Media Contact
Undergraduate student
Grants and Scholarships