Hodson Trust Grants Hood College $3.1 Million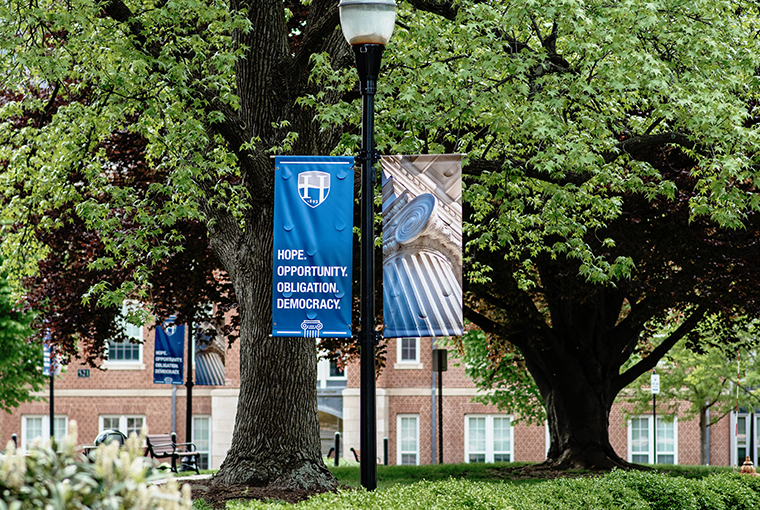 FREDERICK, Maryland—The Hodson Trust has granted Hood College approximately $3.1 million toward student scholarships and the renovation of the Hodson Library and Learning Commons.
Approximately $1.6 million will go toward the endowed Hodson Trust Academic Excellence Scholarship Fund. Established in 1978 by The Hodson Trust, scholarships from this fund are honor scholarships offered by Hood to incoming full-time, first-year students of outstanding academic ability who have shown leadership in school and community activities. Each year, a limited number of students who have excelled in their secondary school programs are selected to receive the scholarship.
The additional $1.5 million, for The Beneficial-Hodson Library and Information Technology Center renovations, will be matched with another $1.5 million next year. Scheduled to open in fall 2020, the library renovations will transform the building into a dynamic learning space that will meet the research, studying, collaboration, and academic support needs of Hood's students for decades to come.
"We are so grateful to our friends at The Hodson Trust for their continued commitment to Hood College," said Hood President Andrea E. Chapdelaine. "Our appreciation for their generosity cannot be overstated."
Throughout the College, the Hodson name is prevalent in scholarships for students, fellowships for faculty, and named buildings. These include the Hodson Fitness Center, the Hodson Outdoor Theater, the Hodson Swimming Pool, the Hodson Gallery in the Tatem Arts Center, the Hodson Science and Technology Center, in addition to the library.
The Trust was established in 1920 by the family of Col. Clarence Hodson, who grew up in Maryland. Hodson believed that credit should be available to the average American, a revolutionary idea in 1914 when he founded the Beneficial Loan Society. Beneficial became one of the nation's most successful corporations.
Each year, The Hodson Trust provides support to four Maryland institutions: Hood, Washington and St. John's Colleges and The Johns Hopkins University.
Hood College is an independent, liberal arts college, offering 28 bachelor's degrees, four pre-professional programs, 19 master's degrees programs, two doctorates and 10 post-baccalaureate certificates. Located in historic Frederick, near Washington, D.C., Baltimore and the I-270 technology corridor, Hood gives students access to countless internships and research opportunities.
Media Contact
Tommy Riggs
Assistant Director of Marketing and Communications
Grants and Scholarships
Community Partnerships