Hood Announces The George B. Delaplaine Jr. School of Business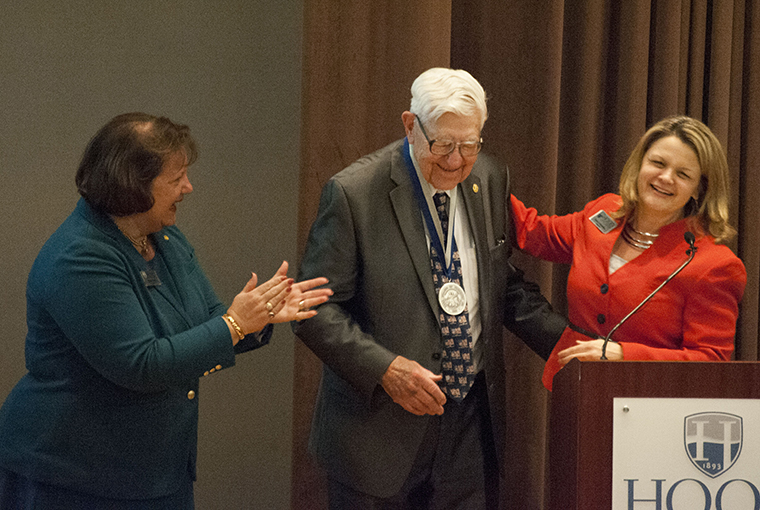 FREDERICK, Maryland—Hood College announced the establishment of The George B. Delaplaine Jr. School of Business today.
George B. Delaplaine Jr., a prominent Frederick businessman, provided a major gift to endow the new School of Business. At a ceremony on campus attended by members of the Hood community and local business and community leaders, Hood President Andrea E. Chapdelaine lauded Delaplaine for his contributions to the community over the last half century. President Chapdelaine also honored Delaplaine with the President's Medal for Hope, one of Hood College's core values.
"Over a lifetime of accomplishments, George has shown entrepreneurial vision, and has leveraged his business success to positively impact the Frederick community in countless ways," said President Chapdelaine. "His family set the standard for good citizenship in Frederick even before Hood's founding, and we are proud to honor his name. The George B. Delaplaine Jr. School of Business will be a hub for social entrepreneurship in the community, allowing undergraduate, graduate and doctoral students enriching experiences beyond the classroom." The gift will support faculty recruitment and development, academic programming, faculty and student research, and general administrative needs.
In his remarks, Delaplaine encouraged students to develop fundamental business skills for life. "Sound financial management is necessary in business and in your personal life," he said. "A good business education teaches you how to use company resources wisely, especially in regard to cost-effectiveness and regulation compliance. Your own personal financial health is, without a doubt, necessary for your peace of mind."
Delaplaine is president of Great Southern Enterprises, Inc. and chair of the Board of Delaplaine Foundation, Inc. He served as past president and CEO of the Great Southern Printing and Manufacturing Company, parent company of the Frederick News-Post, GS Communications, Inc., the Job Shop and GS Net.Works. He held positions of editor and publisher, reporter and columnist of the newspapers for five decades and served as CEO of cable operations. He was inducted into the Entrepreneurial Hall of Fame by the Frederick County Chamber of Commerce.
"This is a special community, and I am grateful to be a part of it," he said. "The College has been a valuable part of Frederick since its founding. I appreciate President Chapdelaine's generosity in awarding me the President's Medal for Hope, and I am happy to be able to financially support the good works that continue to grow with Hood. For decades, I have worked in the Frederick community, and my family has many ties to Hood."
Delaplaine's mother, Ruth Carty Delaplaine, graduated from Hood in 1913, and his sister, Frances "Franny" Delaplaine Randall, graduated from Hood in 1945. He and his late wife, Bettie, who he met while she worked as an assistant in Hood's biology department, both received honorary degrees in 2008. In all, the Delaplaine and Randall families have 12 alumni, including from the Frederick Female Seminary (Hood's precursor), and they have had two members on the Board of Trustees and five members on the Board of Associates.
Media Contact
Business
Business Graduate Programs
Grants and Scholarships
Community Partnerships