Hood College, Fort Detrick Provide Pathway to Education for Local Military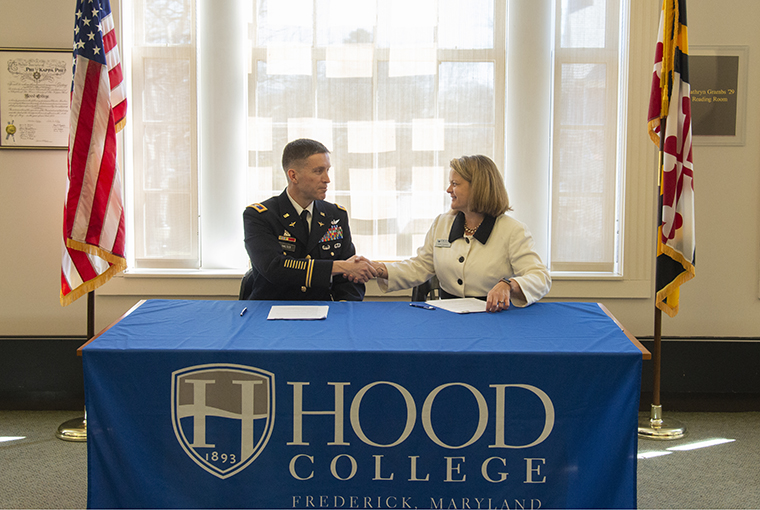 FREDERICK, Maryland—Hood College and the Army Continuing Education System (ACES) have signed an agreement that will provide graduate degree scholarships for active duty military stationed at Fort Detrick.
Andrea E. Chapdelaine, Ph.D., president of Hood College, and Col. Scott Halter, commander of U.S. Army Garrison Fort Detrick, signed a Memorandum of Understanding to better support the professional learning of soldiers.
"Hood College has long valued the partnership with our close neighbor, Fort Detrick," said Chapdelaine. "From scientists serving as instructors to hosting our students on site for research, we are eager to further strengthen our alliance through offering this new scholarship program for soldiers on post."
This scholarship will provide all qualified Army personnel a significant reduction per tuition credit of 40-60 percent in Hood's Graduate School, depending on the academic program, such that the cost will match the education benefit the Department of Defense awards active duty military during their service. Staff from the Graduate School will further support active duty soldiers by providing degree enrollees on-post advising and academic counseling weekly at Fort Detrick.
"This remarkable display of support by Hood College provides service members an incredible opportunity to pursue advanced degrees to enhance their careers and defend our nation," said Halter. "I continue to be impressed by the tremendous partnership between Fort Detrick and Hood College."
According to April Boulton, Ph.D., dean of Hood's Graduate School, active duty soldiers oftentimes are unable to afford graduate degrees, but this scholarship program will change that.
"We want to see our soldiers succeed and further their education while relieving them of the financial burden that comes along with it," she said. "We are so thankful for the sacrifices made by these men and women—this is Hood College's way of showing our support."
For more information, contact April Boulton at 301-696-3600 or boulton@hood.edu.
Media Contact
Tommy Riggs
Assistant Director of Marketing and Communications
Community Partnerships
Grants and Scholarships
Graduate School
Fort Detrick