Hood College Joins National Million Hearts Initiative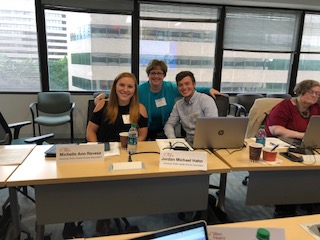 FREDERICK, Maryland—Hood College has joined a national organization that provides screenings and coaching to help reduce the risk of heart attacks and strokes.
The National Interprofessional Education and Practice Consortium to Advance Million Hearts, led by The Ohio State University College of Nursing (OSU), includes more than 150 organizations. The consortium works to advance the goals of the national Million Hearts initiative, namely to prevent 1 million heart attacks and strokes by 2022.
Hood College nursing students Jorden Hahn '19 and Michelle Revesz '20 received training through OSU's Million Hearts Fellowship, which helped launch the Hood College Million Hearts Program this summer. The program provides free blood pressure monitors to participants, screening of blood pressure and related risk factors and coaching on making heart-healthy lifestyle changes. Hahn and Revesz presented this project to national partners in the Million Hearts Collaboration in Washington, D.C. More nursing students are being trained in the program this fall.
"Overall, this program provides opportunities for student experiential learning within a nationally-led health initiative," said Jennifer Cooper, DNP, assistant professor of nursing, who leads the Million Hearts program at Hood College. "It also provides measurable results, such as improved blood pressure and lifestyle changes, for participants related to their heart health."
For more information, contact Jennifer Cooper at cooper@hood.edu.
Media Contact
Tommy Riggs
Assistant Director of Marketing and Communications
Community Partnerships
Health Sciences