Hood College Offers Online Archaeology Field School
Virtual field school is one of few programs in US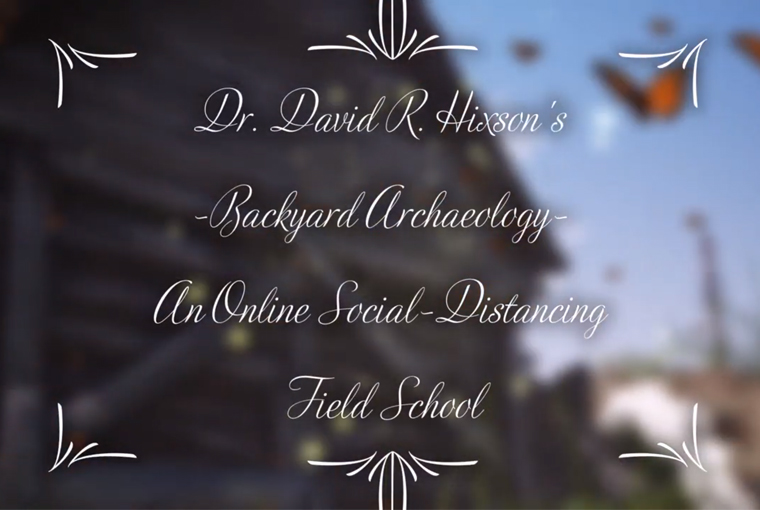 FREDERICK, Maryland—Hood College is launching an online archaeology field school so students can learn how to dig like a pro while social distancing due to the coronavirus.
In the wake of the current pandemic, nearly all archaeological field schools around the world have been postponed or canceled, and students and professors have been largely confined to their homes. However, Hood College is offering a modification of its Art 370 class, called "Hood College Online Archaeological Field School: Backyard Archaeology."
"While there are a couple of programs in Britain offering virtual field schools, to our knowledge, this is a one-of-a-kind program in the US," said Jennifer Ross, Ph.D., chair of Hood's Department of Art and Archaeology. "Even in the midst of social distancing, there will be ample opportunity for the teamwork that is central to successful archaeology. We're excited to have the opportunity to offer it to Hood students."
David Hixson, Ph.D., visiting assistant professor of art and archaeology, will teach the course from his historic property outside Shepherdstown, West Virginia, a middling farmstead founded in 1790 that sat on the front lines of the Civil War. He will demonstrate proper field techniques, from research to excavation to the all-important paperwork, all via Zoom from his backyard. Students will work from home, putting these procedures to the test and checking in regularly with Hixson and the rest of the class.
"I've been saving the excavations of my historic property for just this kind of opportunity," said Hixson. "In archaeology, we try to only excavate when we have a clear goal, and educating our Hood students, training them for a career in archaeology during a global pandemic, I can't think of a better reason to finally start excavations."
Students may register for three credits in ART 370 Archaeological Fieldwork on the Summer I schedule. For the full archaeological experience, they may also register for ART 380 Archaeological Laboratory Analysis, also for three credits. Due to the decentralized nature of this field school, this course is also open to non-Hood students. Registration is now open for three or six upper-level credits. Or, those that just need the experience (not Hood College credits) can sign up to audit the class at a reduced cost.
The registration deadline is May 18. To register, email registrar@hood.edu. The class starts May 25. For more information, visit hood.edu/online-field-school.
Video Preview of the Class 
Hood College is an independent, liberal arts college, offering more than 25 bachelor's degrees, four pre-professional programs, 19 master's degrees programs, two doctorates and 10 post-baccalaureate certificates. Located in historic Frederick, near Washington, D.C., Baltimore and the I-270 technology corridor, Hood gives students access to countless internships and research opportunities.
Media Contact
Art & Archaeology
Faculty
History
Research