Hood College Professor Writes Biography of American Spy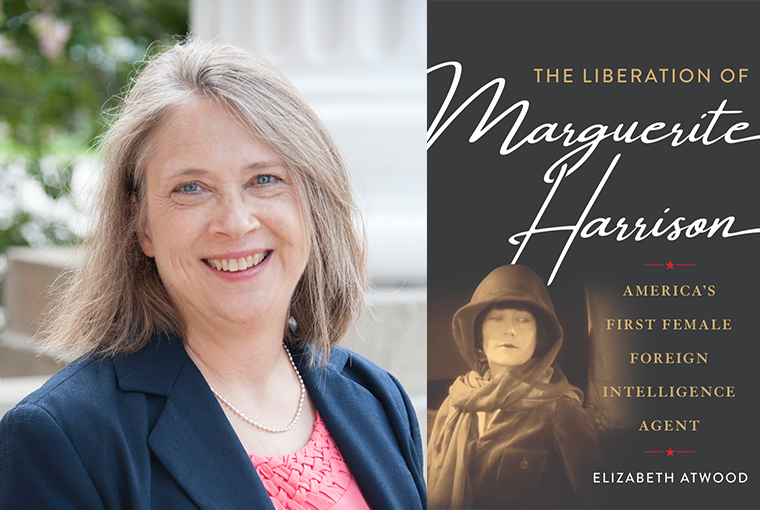 FREDERICK, Maryland—A Hood College professor has written a soon-to-be released biography of a Baltimore woman who was a trailblazer in American espionage.
Elizabeth Atwood, Ph.D., associate professor of journalism, wrote "The Liberation of Marguerite Harrison, America's First Female Foreign Intelligence Agent," which will be published Sept. 15 by Naval Institute Press and available on Amazon.
The biography tells the story of a middle-aged Baltimore socialite who 100 years ago became America's first female foreign intelligence officer. Atwood's research took her to Moscow, Russia, where she viewed records of Harrison's two imprisonments. Atwood also pored over records in the National Archives and interviewed Harrison's granddaughter in order to paint a portrait of an amazing and complicated woman.
"Harrison was one of the most interesting American women of the early 20th century," said Atwood. "As incredible as her life was, however, she has never been the subject of a published book-length biography. Articles and chapters that have been written about her rely heavily on her autobiography published in 1935, which omitted and distorted key aspects of her espionage career."
Over Harrison's lifetime, she was a philanthropist, newspaper reporter, author—and a double agent. The Russian Bolsheviks arrested her three times and imprisoned her twice for espionage, but she managed to escape the firing squad thanks to her charm and family connections. With an indomitable spirit, she sought adventure in some of the most dangerous places in the world. She also enjoyed tea with Queen Victoria, founded a women explorers' society with Amelia Earhart, interviewed world leaders such as Leon Trotsky and Mustafa Ataturk, and saved the life of "King Kong" creator Merian Cooper. All the while, she paved the way for other women in the intelligence services, including today's CIA Director, Gina Haspel.
Atwood's book draws on newly discovered documents in the U.S. National Archives, as well as files held by the Russian Federal Security Bureau that no other Westerner has seen. These papers provide new details about Harrison's intelligence work in Russia and the Middle East. In fact, Atwood discovered that a film Harrison made with Merian Cooper in 1924 was in reality a cover for a spy operation in present-day Iran.
Atwood is a former reporter and editor at the Baltimore Sun where she first learned about Harrison when she saw her photograph outside a conference room.
Hood College is an independent, liberal arts college, offering more than 25 bachelor's degrees, four pre-professional programs, 19 master's degrees programs, two doctorates and 10 post-baccalaureate certificates. Located in historic Frederick, near Washington, D.C., Baltimore and the I-270 technology corridor, Hood gives students access to countless internships and research opportunities.
Media Contact
English & Communication Arts
Faculty
Research