Hood Helps with Renewable Biofuels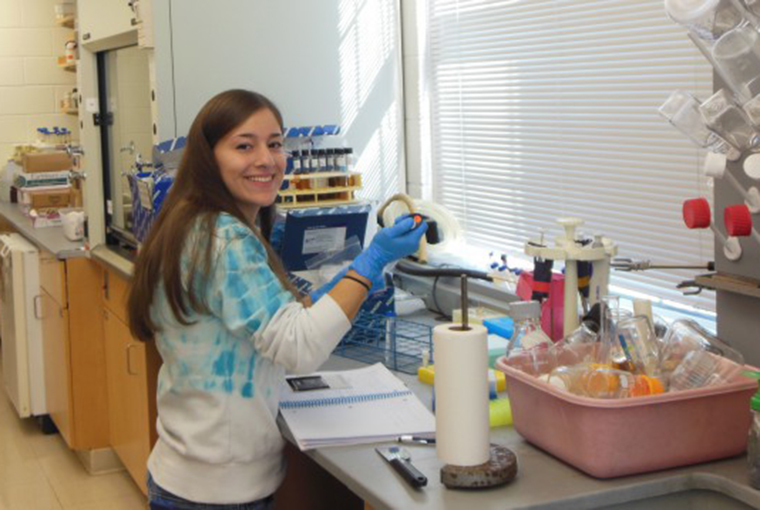 Hood College students and faculty have been assisting in a process to create renewable biofuels by converting energy beet polymers into ethanol for jet fuel.
The energy beet to bio-jet fuel project aims to create a new industry of advanced renewable transportation fuels. The manufacturing of biofuels will lower the dependence on oil and lower the carbon footprint of the transportation industry.
This is a multi-college and multi-company project. The University of Maryland Eastern Shore (UMES), Purdue University, Atlantic Biomass, Advanced Biofuels USA, Plant Sensory Systems and Vertimass all have critical parts.
The project involves growing energy beets and converting the cell wall structural biomass into simple sugars that can then be converted into ethanol, and in turn, jet fuel.
In order to efficiently create biofuels through this process, Plant Sensory Systems—a company in Baltimore that engineers plants to meet market needs—is developing non-food, low-nutrient input energy beets. These energy beets will grow in a wider range of climates than is traditional for sugar beets and will grow with more biomass than sugar beets. UMES is growing the energy beets in test plots. Beets were chosen largely because of their significantly higher yield compared to other crops.
"The ultimate goal is to have a crop that is low-maintenance, low-cost to produce, and high in biofuel/bioproduct sugars," said Bob Kozak, president of Atlantic Biomass, a Frederick company that works to create a sustainable source of sugars for biofuels.
After the energy beets are grown, Hood College professor Craig Laufer leads a team to assist Atlantic Biomass with converting the beets into usable simple sugars. They have created enzymes and a unique process that breaks down the entire biomass of the energy beets, including biomass ignored during conventional sugar production, without costly pretreatments.
Purdue University, in conjunction with a U.S. Department of Agriculture lab in Illionis, is developing and testing bacteria that convert all the sugars into ethanol. Finally, Vertimass, a biofuels company in Massachusetts, converts the ethanol into jet fuel.
The USDA recently awarded a $16,893 grant to Advanced Biofuels USA to complete a feasibility study for the commercialization of the whole project. Advanced Biofuels is a nonprofit located in Frederick that was established to promote the understanding, development and use of advanced biofuels in the U.S. and around the world. The feasibility study will strive to determine if the UMES pilot crop of energy beets and commercial simulation processing show a high enough yield for commercialization.
"We are pleased that the Maryland USDA Rural Development Office sees the value of a feasibility study," said Joanne Ivancic, executive director of Advanced Biofuels. "We expect this will be useful to everyone along the value chain from landowners and farmers to banks and financers, from experts in the sciences to experts in transportation and distribution. We are pleased to put to work Advanced Biofuels USA's years of experience in this unique field."
A number of Laufer's graduate and undergraduate students have also been involved with work related to this project.
"Our long-standing collaboration with Atlantic Biomass has provided opportunities for dozens of undergraduate and graduate students to apply what they learned in classes such as microbiology, genetics, cell biology and biochemistry to the real-world problem of making biofuels," Laufer said. "It has brought external funding for equipment and supplies as well as stipends for Hood students. Working on these projects has provided the experience and training to help propel many Hood graduates into exciting careers in research and onto post-graduate training in medical and doctoral programs."
Hood became involved because of Laufer's expertise and the availability of the College's modern instrumentation for molecular genetics and biochemistry research. Hood also uses its high-pressure liquid chromatography equipment to analyze how the enzymes perform. All of this gives students real-world experience in a classroom setting.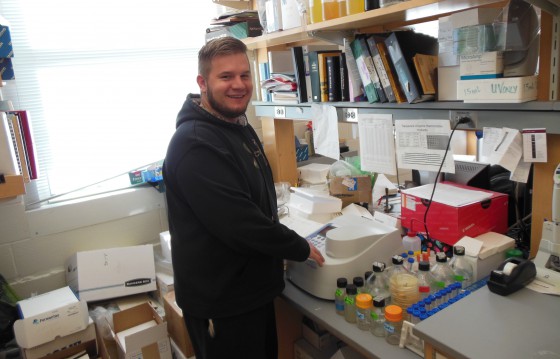 Currently, Rachel Mankowitz and Ian Sellers are working on the project for their Departmental Honors papers. Mankowitz is using a technique to engineer more active enzymes, which is the first step in the process of biomass digestion. The more active the enzymes, the fewer of them are necessary, and the lower the cost. Sellers is investigating the community structure of soil bacteria growing on pectin as a sole carbon source. His research may help to find synergies between the various enzymes that break down this polymer and aid in putting together cocktails of enzymes for the energy beet digestion.
Over the summer, Elizabeth Slick worked on cloning novel pectin methylesterase genes, which are being used by Mankowitz.
Kendra Laster is using the research as an independent study for her capstone experience. She is characterizing the activities of strains that students in microbiology isolated and identified in class. This could help to find novel enzymes to add to those that can digest the energy beet pulp.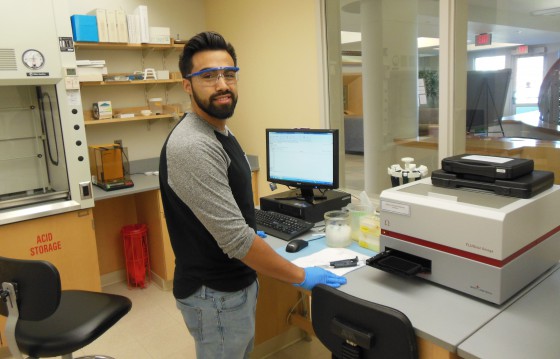 Jose Sanchez, a graduate student, is developing a temperature tunable carbohydrate binding domain that would aid the recycling of the enzymes used in the energy beet's pulp digestion as a part of his thesis research. Through the recycling of the enzymes, the cost of the process could be significantly reduced.
Other recent graduates who participated in this research include Mariam Ashraf, Lauren Brand, Jonathan Bullard-Sisken, Alessandra Emini, Ian McDonald, Ammarah Spall and Britni Uhlig.
Undergraduate student
Community Partnerships
Natural Sciences
Faculty