NEH Grants $100,000 for Seminar Focused on World War I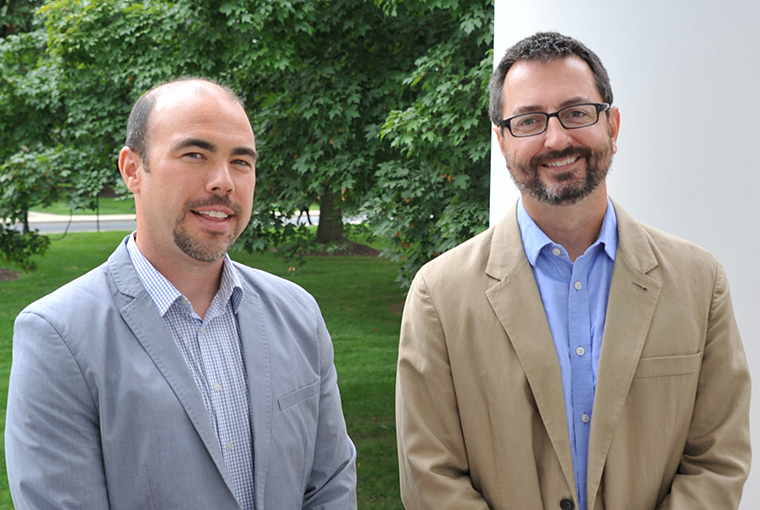 FREDERICK, Maryland—Hood College Professors Trevor Dodman and Corey Campion have been awarded $100,137 from the National Endowment for the Humanities (NEH) for a three-week seminar focused on World War I.
The seminar, called "World War I in History and Literature" is for 16 school teachers and will introduce new ways to teach about the war. It will take place July 8-26, 2019, and secondary education teachers will receive a stipend to travel to Hood and stay on campus.
"Offered at the centennial of the end of the Great War, this seminar offers educators an opportunity to reconsider the national and global importance of the conflict," said Campion. "Moreover, its interdisciplinary approach helps teachers to consider ways to design lessons about the war in a manner consistent with the National Common Core Standards."
The program builds on Dodman's and Campion's work with Maryland secondary school teachers through Hood's interdisciplinary Master of Arts in Humanities program.
"We're excited about helping our seminar participants learn more about the history and literature of the Great War—and, in turn, for them to share their deeper understanding of WWI with their own students," said Dodman.
A day-long field trip to nearby Washington, D.C., to visit World War I memorials is scheduled for Saturday at the end of week one. This field trip will be guided by Jennifer Wingate, associate professor of fine arts at St. Francis College and an expert on American World War I memorials, and will include Pershing Park, on whose recent redesign committee she served.
Week two will feature a guest lecture by Susan Grayzel, associate professor of history at Utah State University, an expert on the history of women and of the First World War, and a former faculty participant in the NEH Summer Institute program. Jennifer Cuddapah, associate professor of education at Hood College, will serve as a pedagogy consultant to aid teachers in weaving new knowledge about World War I into their lesson plans at their home schools.
Media Contact
Faculty
Grants and Scholarships
Social Sciences & Humanities