A Planting of Trees and Shrubs on the 50th Anniversary of Earth Day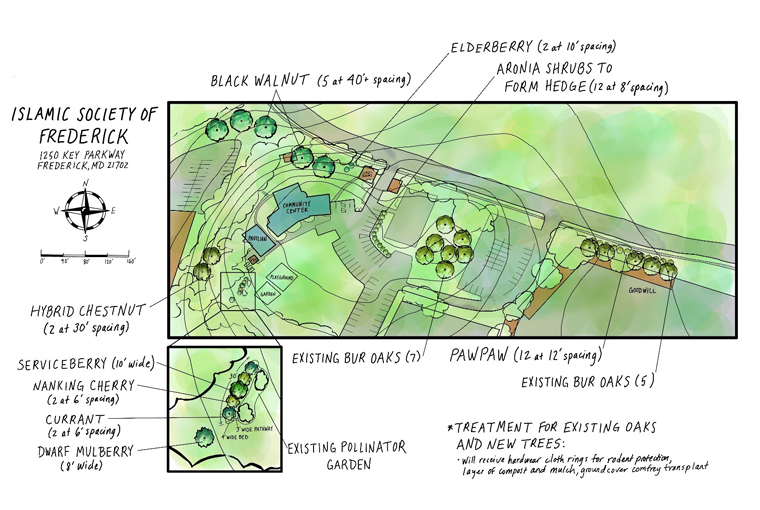 FREDERICK, Maryland—Today, Hood College's Frederick Food Security Network (FFSN) joined with Frederick based non-profit SilvoCulture and the Islamic Society of Frederick (ISF) to plant trees and shrubs to honor the 50th anniversary of Earth Day. The planting of more than 30 trees and shrubs will enhance ISF's grounds while providing yet another food source to support FFSN's growing network.
Jane Dennison, founder and executive director of SilvoCulture, notes, "We are thrilled to be working with ISF and FFSN to plant these trees and shrubs in honor of Earth Day. With COVID-19 impacting our community, we are all even more sensitive to the importance of our food security: these trees and shrubs will provide a food source for local residents while providing wildlife habitat and complementing ISF's already beautiful grounds. We would have loved to celebrate this event with a tree planting ceremony, but now we can look forward to a harvest celebration. SilvoCulture is pleased to provide the plants, design and labor for this important collaboration."
Michael Judd, from Ecologia, is working with the group to design an effective food forest. Nanking cherry, currant and dwarf mulberry will be planted alongside an existing pollinator garden while pawpaw, hybrid chestnuts, black walnut and elderberry will be planted across ISF's property. SilvoCulture will also be planting shrubs to protect the young plants.
Nabeel Ashraf of ISF notes, "the planting of native trees and shrubs is a sign of hope and a way for us to support the Frederick community for a long time to come. The ISF congregation is pleased to partner with FFSN and SilvoCulture to create a community food forest on its reservation. The fruit of this planting will be donated via FFSN for distribution across the greater Frederick area. To quote the Prophet Muhammad (peace and blessings be upon him) Muslims will always earn the reward of charity for planting a tree, sowing a crop and then birds, humans, and animals eat from it."
Claire Hudson of FFSN notes, "We are grateful for our partnership with ISF. SilvoCulture is a new nonprofit, and we sincerely appreciate their gift of food crops for our community. We are committed to helping to ensure food security in Frederick, especially during this critical time."
SilvoCulture is a Frederick, Maryland, based nonprofit that was created in 2019 as a response to a world of rapidly changing climates and vulnerable economies. They promote activities that will provide stable ecologies and financial security for future generations.
The Islamic Society of Frederick seeks to gain the pleasure of Allah by serving the best interest of Islam and Muslims in Frederick and surrounding areas and enabling them to practice Islam as a complete way of life. Muslims and non-Muslims regardless of race, color, gender and national origin are welcome to participate in ISF religious, cultural and social activities.
The Frederick Food Security Network is a community gardening program from the Hood College Center for Coastal and Watershed Studies. The network includes six community gardens in Frederick with the duel mission of improving food security for the residents of local food deserts and reducing local water pollution by diverting rooftop runoff for use as irrigation. It is the hope of the FFSN that this community effort will promote better eating habits and environmental stewardship in the Frederick community.
Hood College is an independent, liberal arts college, offering more than 25 bachelor's degrees, four pre-professional programs, 19 master's degrees programs, two doctorates and 10 post-baccalaureate certificates. Located in historic Frederick, near Washington, D.C., Baltimore and the I-270 technology corridor, Hood gives students access to countless internships and research opportunities.
Media Contact
Center for Coastal and Watershed Studies
Frederick Food Security Network
Community Partnerships