Rotary Club Grant Provides Cold Storage for Frederick Food Security Network
Estimated to save 20 percent of all produce grown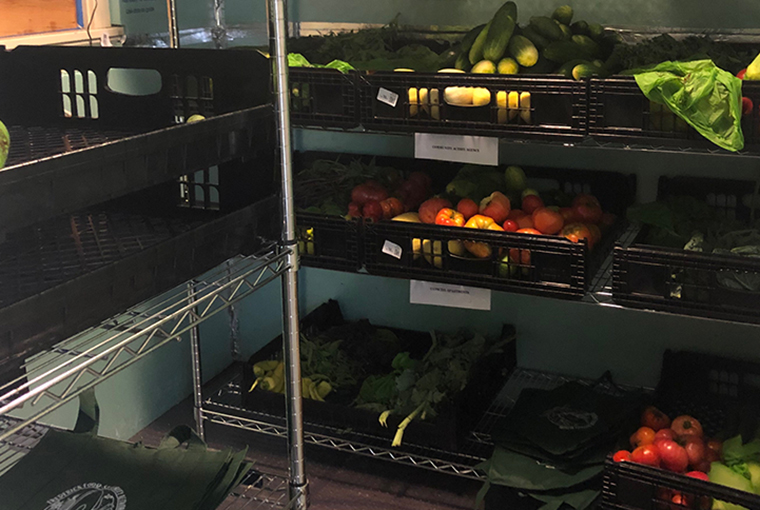 FREDERICK, Maryland—Hood College's Frederick Food Security Network (FFSN) was a $1,000 grant from the Rotary Club of Carroll Creek (RCCC) to improve the network by building cold storage to minimize spoilage, which was a challenge faced last season.
"Last year, our two operating gardens grew more than 1,500 pounds of produce, which was phenomenal. However, without a proper cold storage room to store the produce between harvesting and distributing it, we did unfortunately have some of the produce spoil," said Connie Ray, FFSN manager.
This year, the FFSN will have four gardens operating to grow more produce. The more produce that is grown, the greater the chance of spoilage without proper cold storage. April Boulton, dean of Hood's Graduate School and coordinator of one of the FFSN's gardens, estimates the garden loses approximately 20 percent of its produce due to a lack of cold storage.
"We have lost too many pounds of produce to rot and pest attacks due to the lack of adequate cold storage," said Boulton. "The new cold room will streamline and improve how the garden serves Frederick residents in need."
In the next year, under the direction of a full-time manager, the FFSN will strive to grow and distribute more than 2,500 pounds of produce to distribute to 500 Frederick households.
"We are so grateful to the Rotary Club for supporting us in preserving that produce so all of it can get into the hands of Frederick city residents who need it," said Ray.
Media Contact
Frederick Food Security Network
Grants and Scholarships
Community Partnerships
Center for Coastal and Watershed Studies