Tischer Scholars to Present Year-Long Research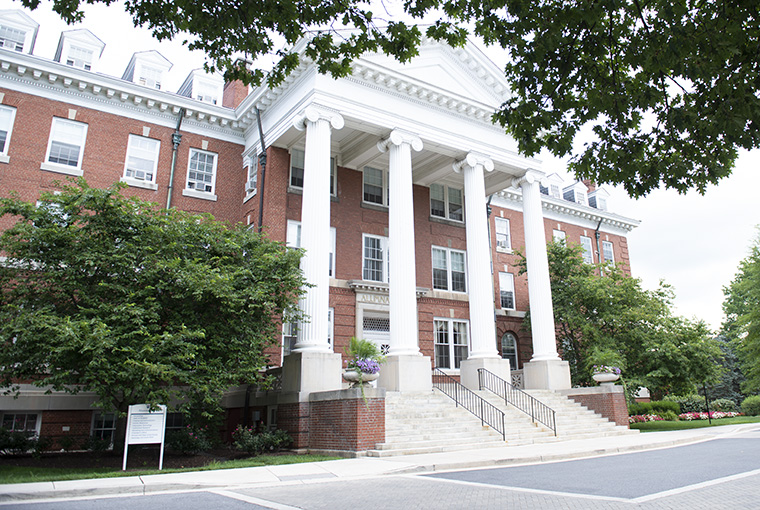 FREDERICK, Maryland—Twenty-seven Hood College students will present their year-long research projects on April 19 on campus in Rosenstock Hall.
The 2019 Christine P. Tischer Scholars Departmental Honors presentations will take place from 2:30 to 4:30 p.m. in Rosenstock Hall, beginning with an opening session in Hodson Auditorium. A reception will take place after the presentations in Whitaker Campus Commons from 4:30 to 5:30 p.m.
Eligible Tischer Scholars are students who have earned an overall GPA of 3.0 and a 3.5 in their major at the end of their junior year. They are usually invited to participate in Departmental Honors work during their senior year. The prestigious and highly selective, year-long program is designed for students who wish to pursue intensive research or a special project. These students have been designated Christine P. Tischer Scholars since the 2000-01 academic year in honor of the 1965 Hood alumna who has generously supported the program.
The following students will present their research:
Cecilia Adams: "Is Laughter the Best Democratic Medicine? Political Comedy and Its Effect"
Matthew Ball: "Comparison of Wildtype and cDNA Clone Derived Trinidad Donkey Strain of Venezuelan Equine Encephalitis Virus"
Alex Baughman: "Rebellion, Republic and Resistance: Exploring the Politics of Disney's Star Wars Films"
Monica Andrea Gutierrez: "Intimate Topographies: A Journey with Tomás Eloy Martinez"
Jayla Harris: "What's Partisanship Got to do With It? Racial Disparities of Maternal and Infant Mortality in North Carolina"
Anastazia Jablunovsky, "Lowering Melting Temperatures of Carbohydrate Binding Modules through Site Directed Mutagenesis"
Abraham Kettor, "The History of Algerian Immigrants' Search for Identity in France: An Analysis through French Film, Historical and Political Context between France and Algeria"
Maisha Khan, "Development of an Assay for Antimicrobial Susceptibility Testing of Coxiella burnetii"
Jared A. Knowles, "Political Expenditure and Congressional Election Success"
Dana La Force, "Social Media Usage and its Relationship to Personality"
Patrick Mark
Abbey McAlister, "Mental Health Stigma in a Politically Polarized United States"
Payton Mills, "Constructing and Deconstructing the Austen Female Identity"
Elias Nicholson, "Regulation and Discrimination: Race and Interest Rate Mark-ups"
Brendon J. Page, "Un Rêve Français à la Lumière de l'Art Japonais Pendant le 19ème Siècle au début du 20ème Siècle"
Olivia Peterson, "Dramatic Aspirations at Villa Borghese: The Theatrics of Bernini's Sculptural Group"
Max Reidel-Topper, "Targeted Mutagenesis of Human BRCA2 vs Recombineering for Functional Evaluation of Unclassified Variants"
Melissa Rifkin, "Investigating the Effects of Flynap (Triethylamine) on Behavior and Related Gene Expression in Wildtype and White Mutants of Drosophilia melanogster"
Hanah Romsburg, "Exploring Community and Mortuary Rituals through the Use of Plastered Crania in the Levantine Pre-Pottery Neolithic B"
Erin Schwagerl, "Examining the Impact of Social Support Accessibility on Frederick County K-12 Students"
Laura Schweinfurth, "Un Vrai Cinéma Politique: Une Analyse des Opinions Politiques de Jean-Luc Godard et leur Évolution comme les Montrent dans ses Films"
Alexandra Skouras, "Libertad de Expresión un Mordaza Limitaciones y Consequencia de la Transicion en la Presente Democracia Espanõla"
Gina Sterling, "And? How American Popular Culture Embraced Cynicism in the Digital Media Age"
Amanda Tapscott, "The Relationship Between Abortion Attitudes and Ratings of Responsibility for Unintended Pregnancies"
Peggy Trujillo, "Reel or Real: Female Heroism in Hollywood"
Julia Tyson, "The Impact of Arts Education on Student Success"
Ian Wittler, "Predicting Mortality of Diabetic Patients in an ICU Setting"
For more information, contact Mary Jean Hughes at hughes@hood.edu.
Media Contact
Tommy Riggs
Assistant Director of Marketing and Communications
Events
Undergraduate student
Research