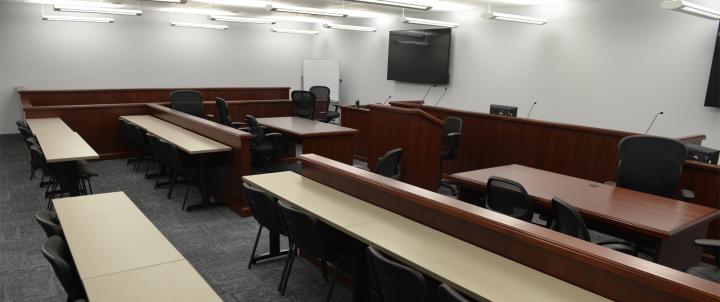 At Hood College, we understand that practical experience is essential for shaping successful legal professionals, and our state-of-the-art Moot Court room offers an unparalleled environment for students to hone their advocacy skills.
Established in 2015, the Moot Court room's appeal lies in its realistic courtroom setting, designed to replicate an actual courtroom, complete with a judge's bench, witness stand, and jury box. This immersive experience allows our law students to practice arguing cases, presenting evidence, and cross-examining witnesses, providing them with invaluable exposure to the intricacies of the legal profession. Moreover, the Moot Court competitions held in this space enable students to develop confidence, critical thinking, and persuasive communication skills, making them stand out in their future careers.
Beyond the appeal, the benefits of our Moot Court room extend to fostering a sense of community and camaraderie among our students. Collaborative teamwork is emphasized throughout the Moot Court program, encouraging students to support each other and engage in spirited debates that enhance their understanding of complex legal issues. With guidance from experienced faculty and legal professionals, our students are well-prepared to face the challenges of the courtroom and excel in their legal careers. Join us at Hood College, and step into the Moot Court room, where your journey to becoming an accomplished legal professional begins!
Each year, Janis Judson's PSCI 405 Civil Liberties class participates in a semester-long hypothetical Supreme Court case and then presents the case for oral argument.
We have also held several retrospectives in the courtroom-- a panel on Justice Scalia's jurisprudence and a session on Women in the Law. We are very excited about the prospect of hosting a moot court competition in the near future.
Are you ready to say Hello?
Choose a Pathway
Information will vary based on program level. Select a path to find the information you're looking for!