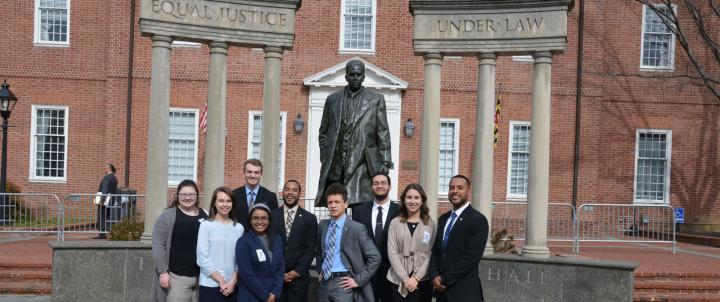 Department of Political Science
The Hood College Department of Political Science offers timely and interesting courses complemented by exciting opportunities to engage in personal research, attend relevant field trips, and embark upon challenging internships.
As a senior, you'll have the opportunity to take advanced elective courses that are generally not offered at schools our size. These will prepare you for graduate school, law school or your career in government, public administration, community advocacy, education, journalism, or international or nonprofit business.
Our faculty are committed teachers and mentors and represent a wide range of academic disciplines, interests and strengths. While faculty members are active scholars in their individual research fields, their primary concern is teaching.
You'll have access to internships, study abroad opportunities, the Model United Nations, and the Maryland Student Legislature, through which you can earn academic credit.
All of our faculty hold doctorates, have significant publication records, and are engaged in current research. Many of those faculty members collaborate with students in their research. Furthermore, this department facilitates our students' participation in a number of unique opportunities off campus including Model UN and Maryland Student Legislature.
Beyond the Classroom
Hood's location near Washington, D.C., and Annapolis, the capital of Maryland, offers numerous internship opportunities with governmental agencies. In Frederick, internships with county and local government agencies are widely available. In recent years, Hood students have interned at locations such as:
Amnesty International
Center for Democracy
Frederick City Government
Frederick County Government
Housing Trust of Frederick
Maryland Attorney General,
Frederick County Office
Maryland Commission on Human Relations
Maryland General Assembly
Maryland State Senate
U.S. House of Representatives
White House
Hood participates in the Washington Semester Program with American University, where students live in the residence halls, take a course and complete an extensive internship program during their junior or senior year. Students are encouraged to take advantage of study abroad opportunities. The most popular programs take students to Spain, France and London.
Are you ready to say Hello?