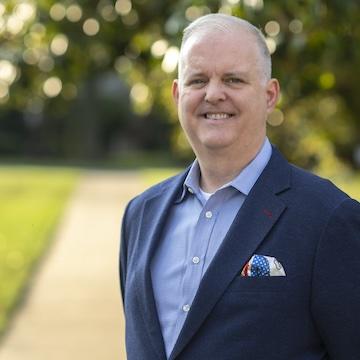 Program Director of Bioinformatics and Health Informatics
Biography
Timothy P. Coffin, Ph.D., serves as the director of health informatics and bioinformatics programs and is the founder and chief executive officer of Celtiq, LLC, a consulting firm specializing in government healthcare solutions. With expertise in health research science, particularly in knowledge discovery and health informatics, he has provided strategic counsel to various federal entities in the realms of healthcare, technology innovation, national security and counter-terrorism measures. Coffin's consulting work extends to multiple federal departments and organizations, including the military, Office of the Secretary of Defense, Department of Homeland Security, NIH, NLM, FDA and the Federal Reserve, among others.
At BLH, where he held the position of director of artificial intelligence and informatics, he contributed to the National Library of Medicine by developing natural language processing models to scrutinize research submissions for ClinicalTrials.gov. He also implemented robotic process automation systems to streamline the review and redaction of medical research reports for the FDA's MTRPO.
A researcher at heart, Coffin's scholarly pursuits focus on modeling depression, precision medicine and suicide risk detection within the veteran community. Additionally, he explores AI-based methodologies for identifying rare diseases and opioid addiction. His research has informed initiatives for the DDR&E and Defense Science Medical Board, particularly concerning traumatic brain injury and PTSD. He has also evaluated disability claims for the Army's Combat Related Specialty Compensation and Traumatic Service-members' Group Life Insurance programs.
Beyond healthcare, Coffin has spearheaded teams of experts to assess vulnerabilities in America's critical infrastructure, covering healthcare, telecommunication, public utilities and financial networks.  Before his current roles, Coffin was an adjunct research staff at the Institute for Defense Analyses, where he conducted extensive analyses related to weapons and consequences for various federal agencies. He also had a successful stint in the private telecommunications sector, where he facilitated business growth through diverse leadership, technical and executive roles.
A veteran of the U.S. Air Force, Coffin amassed more than 1,000 hours of operational flight testing in his 14-year service, while also contributing to research, development and international cooperative programs.
Coffin holds board certification as an AMIA Certified Health Informatics Professional. He is a Lean Six Sigma Master Black Belt and a PMI-certified Project Management Professional. Additionally, he holds DAWIA certifications in program management, research and development, acquisition logistics, and test and evaluation. His educational background includes a Bachelor of Science in Engineering from the U.S. Air Force Academy, a Master of Public Administration from the University of Dayton and a Ph.D. in Health Research Sciences from George Mason University.
Education
Ph.D., George Mason University, Health Research Sciences
MPA, University of Dayton, Public Relations
B.S., U.S. Air Force Academy, Engineering
Are you ready to say Hello?
Choose a Pathway
Information will vary based on program level. Select a path to find the information you're looking for!