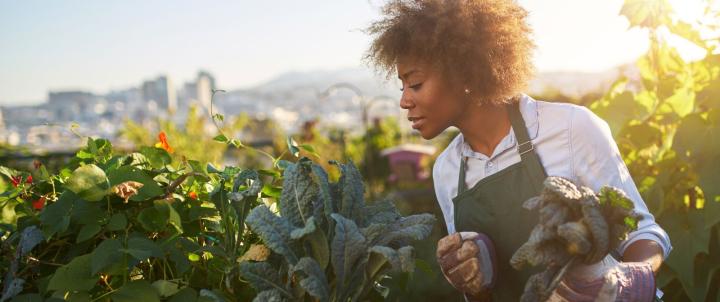 About this Program
An accelerated five-year, dual degree (B.A./M.S.) for highly motivated students.
Program Overview
The Departments of Biology and Nursing have partnered to offer the 4PLUS program in sustainability studies and sustainable nutrition. Students pursuing a B.A. in sustainability studies who maintain a GPA of 3.5 or higher are eligible to apply for a subsequent M.S. in sustainable nutrition. The combined degree program may be completed in as little as five years. However, this timeline may vary based on course availability, completion of requirements and student preference.
You will study the relationship between natural resources, the environment, food systems and nutritional health. The B.A. is the only undergraduate sustainability studies program in Maryland, while the M.S. is accredited by the Accreditation Council for Education in Nutrition and Dietetics (ACEND). Both programs feature hands-on fieldwork and research opportunities. The M.S. is designed as a hybrid model (combination of online and in-person courses) for added flexibility.
Interested students must apply to the program by the drop-add deadline of the first semester of their junior year. 4PLUS students must meet the M.S. in sustainable nutrition admission requirements, which includes two chemistry courses, two biology courses and one principles of nutrition course for 11 undergraduate credits towards their degree. These requirements may be met by carefully choosing elective courses. For example:
Two chemistry courses: CHEM 101 and BIOL 412

Two biology courses: BIOL 201 and BIOL 411
In some cases, students (including transfer students with strong biology/environmental science backgrounds) may apply for the 4PLUS program after the first semester of their junior year. These students may be admitted but will usually need at least one additional semester of graduate coursework to complete both degrees.
Students accepted into the 4PLUS program can take up to five graduate-level courses during their junior and senior years. Due to the condensed nature of this program, accepted students are strongly encouraged to plan their coursework with a faculty adviser as early as possible.
Department Offering
Related Graduate Programs
Are you ready to say Hello?
Choose a Pathway
Information will vary based on program level. Select a path to find the information you're looking for!
Program Contact
Nick Masucci
Assistant Director of Graduate Admission
Office: 301-696-3601 Cell/WhatsApp: 240-651-4015