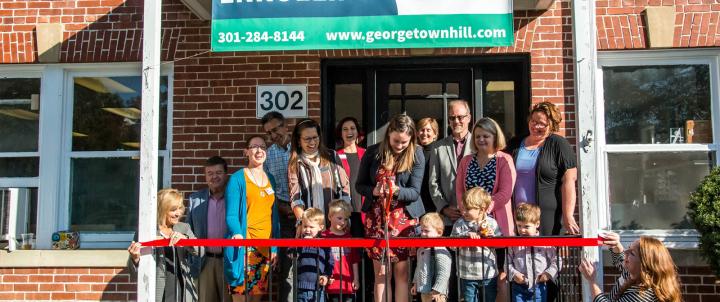 Hood College's impact extends beyond the campus and into the community and region. The College contributes to the intellectual, cultural and economic life of Frederick, one of Maryland's largest cities and one of the nation's fastest-growing metropolitan areas. The College attracts talented students, many of whom remain in the area as scientists, educators, government employees, entrepreneurs and community leaders. Hood's students, faculty and staff are actively involved in the community, devoting hundreds of hours each year as volunteers for local nonprofit organizations.
$32 million each year in local, direct economic impact.
$100 million each year in regional, state and national direct and indirect economic impact.
1,600+ Frederick county jobs sustained by Hood's presence.
3,501 Hood community members, including alumni, students, faculty and staff, live in Frederick County.
348,000+ community service hours Hood students have given in the Frederick area during the past 10 years.
200+ internship sites throughout the region with which Hood maintains relationships.
217 teachers, eight principals, 12 assistant principals, one superintendent and 12 counselors with Hood degrees in the county's education sector alone.
Center of intellectual and cultural life

—a

nnually, more than 50 lectures, exhibits, concerts and cultural events (past visitors include Alex W. Corey, Harvard lecturer; Nadia Hashimi, best-selling author, pediatrician and congressional candidate; John Cotter, a deaf author; Kathryn Bond Stockton, a leading advocate for racial and gender equality; Bob Zellner, a Civil Rights leader; and Lynn Pasquerella, an expert in higher education).
95 home athletic events.
Finances
The College continues to exercise prudent fiscal management and allocate resources to ensure our students receive the best possible experience inside and outside the classroom. Hood completed the past fiscal year with a strong financial performance, a balanced budget and another unqualified audit opinion by our auditors. As of June 30, 2014, the value of the endowment, restricted and unrestricted, was $83,450,000.
Are you ready to say Hello?
Choose a Pathway
Information will vary based on program level. Select a path to find the information you're looking for!