Alumni Spotlight | Maryam Iftikhar '22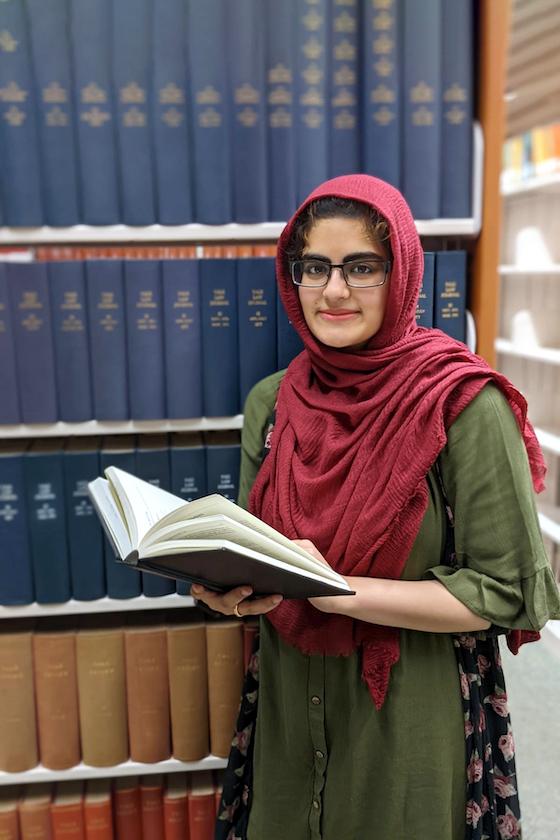 Maryam Iftikhar '22, a global studies major, discusses her time at Hood and how the global studies program has influenced her post-grad career.
What attracted you to the global studies major?
I have always been passionate about human rights and social justice issues. As a first-generation immigrant, I have grown up knowing firsthand how geopolitics and international relations play a large role in these issues and their day-to-day effects. Because of this, I have always been drawn to the field of global studies. I knew after one conversation with Professor Eager that the program at Hood College was perfect for me.
Did you have a double major and/or minors that complemented global studies?
At Hood, I also minored in nonprofit and civic engagement alongside my major in global studies. I knew I wanted to engage with the nonprofit sphere professionally after graduation, which has always been a prominent actor in advancing social justice issues internationally.
Did you participate in any meaningful programs or experiences through global studies?
I experienced the value of a global studies major and nonprofit engagement minor firsthand when I was awarded the Davis Project for Peace grant in 2021. My team of fellow Hood peers and I worked on a project entitled "A Broken Bridge: Addressing Lack of Accessible Resources for Immigrants & Refugees" in collaboration with the nonprofit organization RAICES. This project allowed us to work towards facilitating peace and capacity-building initiatives for migrant and refugee populations by creating a resource fund that offered financial assistance to combat resource gaps. I was also part of the Model United Nations Club at Hood and participated in national conferences while utilizing political theories from my global studies classes in simulations that reflected ongoing issues in the world.
Additionally, during my senior year, I was a Tischer Scholar and worked on a year-long Departmental Honors Project. I wrote a paper analyzing whether the UN Convention on the Prevention and Punishment of Genocide needs to be revised/amended to more fully reflect the 21st-century realities of crises situations that can become genocides by comparing and contrasting case studies of the Holocaust, the Cambodian genocide, the Rwandan genocide and the current-day crisis of the Rohingya in Myanmar/Burma. This project was significant because I was able to culminate my experience and knowledge from the global studies major and gave a capstone presentation in front of faculty, family and friends. My paper can be read here.
What are you currently working on that utilizes your global studies major in any capacity?
My major and minor have been an incredible foundation for my career path after graduation. I am currently working as the communications director at the International Center for Religion and Diplomacy, which is a violence prevention and peacebuilding NGO dedicated to advancing the role of faith and identity to combat crises and mitigate conflict. I am constantly drawing on my global studies education for work. For example, on a work trip to Oman, I heard about the long-term effects of the Arab Spring firsthand from female activists in the MENA region, which was both humbling and incredibly rewarding. I'm grateful to my time at Hood College, the global studies program and the incredible faculty for helping me gain valuable skills to approach the challenges in the international peacebuilding and human rights sector with confidence.
What advice would you give to prospective global studies majors?
For students considering their place in the world and how a global studies education can help them after graduation, I encourage you to explore every opportunity available. Hood College has a plethora of resources available to work on social justice initiatives, undertake honors research and discover professional opportunities—there is a path for everyone! I have found my education and career to be an extremely rewarding experience because I reached out to faculty and took a chance on every opportunity that was available to pursue. Additionally, be proud of your voice and the perspectives you have to offer, while always inviting and uplifting fellow voices and peers to the table. In a field like global studies and international affairs, we are truly stronger when we work together.
Are you ready to say Hello?
Choose a Pathway
Information will vary based on program level. Select a path to find the information you're looking for!