Faculty and Staff Spotlight | National First-Generation College Celebration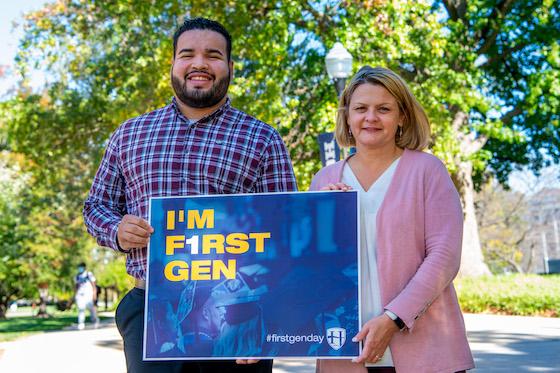 Hood employees who are first-generation college graduates bring invaluable insight to campus.
Faculty and Staff Spotlight
What do Albert Einstein, Michelle Obama, Walt Disney and Ruth Bader Ginsburg have in common? They are all first-generation college graduates. In other words, they are the children of parents who did not complete a four-year college or university degree. Humble origins do not negate a person's potential for greatness, but the path is rarely straightforward.
Although higher education should be readily accessible for everyone, the reality is far more complex. A variety of factors—financial, social, geographic—can act as barriers for would-be college students before they even enroll. One such factor that is often overlooked is family history. If someone finds they are the first in their family to pursue a college degree, meeting their educational goals could be all the more challenging. Given these obstacles, the determination and perseverance of first-generation college students are all the more remarkable.
As we partake in this year's National First-Generation College Celebration, let us not overlook our dedicated faculty and staff who are themselves the first in their families to earn an advanced degree. Like the 200-plus first-generation students currently enrolled, there are plenty of Hood employees who share this unique honor. One of those proud first-gen graduates is none other than President Andrea Chapdelaine. "If I ask students, they probably wouldn't think I'm a first-gen. How can somebody be a president of a college and have a Ph.D. and be a first-gen?"
First-gen graduates can be found in just about every department here, many of whom are also Hood alum. Their achievements, both professional and personal, are a testament to what first-gen students can accomplish. For President Chapdelaine, this comes as no surprise. "I think employees who are first-gen are drawn to Hood because we do such an amazing job of supporting our students. They carry that passion and interest with them. It helps make our community not only more supportive, but also more welcoming and inclusive of everyone."
Any first-gen graduate can attest, however, that the journey from enrollment to graduation is not always easy. "I think all of us—first-gen or not—have doubts about college and wonder if we really belong and whether we can make it," President Chapdelaine says.
First-gen enrollees often lack many of the resources other students might take for granted. Knowing how to navigate collegiate policies and procedures can be intimidating for those who lack context and guidance. "During my freshman year, I realized my peers often came from wealthy neighborhoods and fancy schools. They understood the unspoken rules and language of the university environment because their socio-economic background prepared them for it," says Conor Donnan, adjunct professor of history.
Suzanne Beal, an adjunct professor in the English and communication arts department, echoes this sentiment. "I always felt a bit out of place, as if there were a secret society of those who knew what college was and I did not belong to it. I did not have the experience of the college culture and therefore always felt I was an imposter."
Despite these self-doubts, first-gen graduates are by and large some of the hardest working students on campus. As employees, they have now become an integral part of the Hood ecosystem. Not only do they utilize their college experiences in their work, they also serve as an inspiration to students and faculty alike.
"First-generation college graduates are the lifeblood of academic innovation. They bring resilience, open-mindedness, unrivaled motivation and tenacity to the college," explains Donnan. "At Hood, first-generation graduates can build strong support networks for new students, craft courses that help democratize teaching and bring the campus in contact with the broader community."
Laurie Ward, vice president for marketing and communications, considers it a privilege to act as a support system for first-generation students. "The first-generation colleagues here bring their own experiences and their empathy for knowing about the unknown. I've been able to put myself in these students' shoes—I was like you. I was scared and didn't know what I do now—I can show them how far I've come."
Newfound insights and attitudes gained as first-gen students can be passed down to the next generation, as well as being applied to post-grad careers at Hood or elsewhere. Many of these traits are acquired outside of the curriculum. "Perseverance, fortitude and resourcefulness were the most critical skills I learned during my undergraduate years. They bolster me far more often today than any one subject I studied," notes April Boulton, dean of the graduate school.
These employees often form special connections with the first-gen students they serve. Just ask Wayne Wold, professor emeritus of music and college organist. "I feel we are more understanding of those young people with the same background. We teachers often see our younger selves in them and can thus empathize and offer appropriate assistance and encouragement."
A person's family history certainly informs their life but in no way defines it. The fact that so many first-gen graduates comprise Hood's workforce is proof. Whether they're teaching in the classroom or working behind the scenes in administration, these employees serve as powerful role models. Their experiences mirror those of current students who find themselves confronting the intricacies of college life for the first time.
What advice might these first-generation elders offer their younger counterparts? "Understand you are blazing a trail that will begin to rewrite the narrative for your family. No challenge is too great if you get around likeminded people and develop some good mentoring relationships," suggests Brandon Shurn, clinic director of counseling services.
Tricia Strickland, elementary and special education program coordinator, offers these words of wisdom: "Be brave and ask for help. It feels overwhelming to navigate this foreign environment, but there are lots of people who will help you, such as your professors, your advisors and staff in the financial aid office. Learn when you need help and ask for it!"
For current first-gen students, the message is clear. With every challenge comes opportunity. There will be moments of hardship, but they are only temporary. Most importantly, Hood's first-gen faculty and staff are here to be allies every step of the way. President Chapdelaine remarks, "When I feel like I've helped a student, that's the best part of my day. If they don't ask me for help, I'm not doing my job. I think that opens up their willingness." Fostering this sense of community and collaboration is what makes the first-gen legacy something to celebrated.
Special thanks to all the first-gen college graduate Hood employees who help enrich our community.
Aaron Angello, Ph.D., assistant professor of English and communication arts

Nikki Bamonti '00, director of admission

Tina Barr, Ph.D., assistant professor of social work

Suzanne Beal, Ph.D. adjunct professor of English and communication arts

April Boulton, Ph.D. dean of the graduate school

Danny Castillo '20, admission counselor

Andrea Chapdelaine, Ph.D. college president

Jennifer Cooper, DNP, assistant professor of nursing

India Dennis '19, admission counselor

Conor Donnan, Ph.D. adjunct professor of history

Amy Gottfried, Ph.D. professor of English and creative writing concentration director

Traci Holland '10, associate registrar for graduate studies

Charles "Chuck" Mann, vice president for finance and treasurer

Maura Page '17, employer relations manager

Brandon Shurn, clinic director of counseling services

Tricia Strickland, Ph.D. elementary and special education program coordinator

Laurie Ward, vice president for marketing and communications

Wayne Wold, Ph.D. professor emeritus of music and college organist
Are you a first-gen college graduate who works at Hood and you don't see your name on this list? Please contact Matt Lee at mlee@hood.edu to be added.
Are you ready to say Hello?
Choose a Pathway
Information will vary based on program level. Select a path to find the information you're looking for!