Graduate Alumna Focus | Ifeoluwa Popoola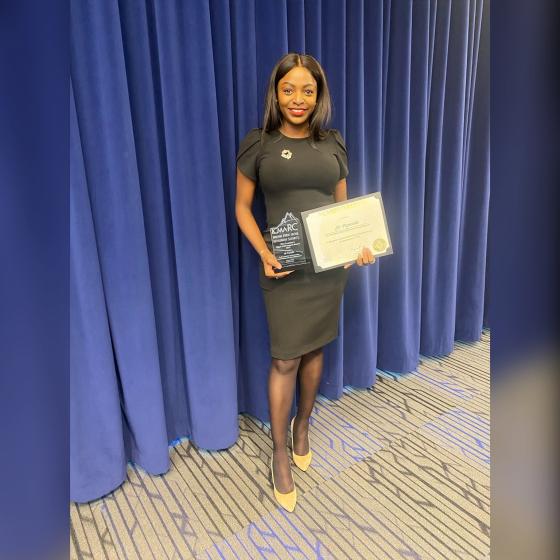 Hood graduate alumna, Ifeoluwa (Ife) Popoola, earned a Masters in Management Information Systems in 2016. She was recently nominated for a President's High Achievement Award by her company.
Ifeoluwa Popoola
Graduation Year
Program
Management Information Systems (M.S.)
Department
The George B. Delaplaine Jr. School of Business
Computer Science & Information Technology
"I especially enjoyed the practicality of my graduate degree program. Most of my Hood professors brought the IT industry into the class."
Please provide a brief bio including your educational and career background.
I am a Senior Cloud Engineer with several years of experience in IT. I have worked in various roles in IT which has allowed me to be the professional that I am today.
I have a Hood College Masters in Management of Information Technology and a Bachelor's degree in Computer Science. I am a certified Cloud Solutions Architect and Developer. 
Could you please share more about the President High Achievement Award? Did you apply or you were nominated? 
The president High Achievement award is for employees in my organization who go above and beyond their job descriptions and deliver beyond what is expected.
I was very honored to be nominated for the award. 
Could you please share more about your Hood journey? Your degree, life on campus, professors?
I got my Masters in Management of Information Technology from Hood College Graduate School 4 years ago.
One thing I remember and appreciate is how my Hood College professors made my graduate career a memorable learning experience. They were approachable and you could feel their desire for student success.
The diversity in teaching staff and students made my experience more pleasant because, as an international student, it helped me feel like I belonged.
I highly recommend Hood College because faculty keep improving and expanding the MIS program; creating opportunities for more people to learn and earn their degree.
What did you like the most about your program? How did it help you with your career/skills development?
I especially enjoyed the practicality of my graduate degree program. Most of my professors brought the IT industry into the class. They did not just teach you the theory of IT, they taught the practicality of it which gave me an insight into what to expect.
Interacting with people from different parts of the world at Hood College prepared me to work with people from different background, experience and skills. 
Any advice for current students who are looking for jobs after graduation? 
My advice to current students is to always ask questions.
Hood College professors are equipped to answer not only technical but also job skills-related questions. 
While completing your program, do a lot of research in the industry you wish to work in. Find out the requirements, skills, and capabilities needed. Get a certification if needed.
Network, network, network! Make sure your LinkedIn profile is up to date. Reach out to people with similar skills and roles you are looking for to build your network.
On your resume, make sure to highlight the work you have done and how your resolved issues. Managers want problem-solvers who will add value to the team and not slow the team down.
Inspired by Ife's story to #GoFurther in your education to boost your career? Learn about Hood College's graduate programs, including the MIS (Management Information Systems) by clicking here.
Are you ready to say Hello?
Choose a Pathway
Information will vary based on program level. Select a path to find the information you're looking for!