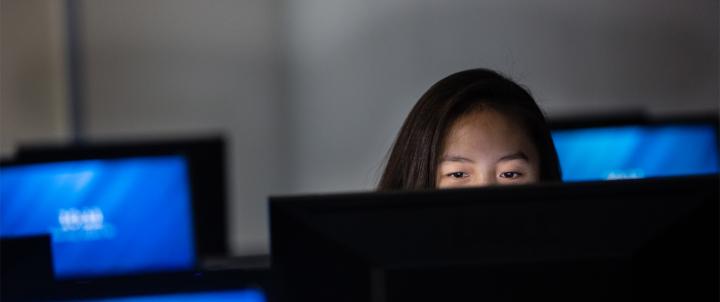 Department of Computer Science & Information Technology
Computer science is an exciting, evolving field, offering many promising career opportunities. By choosing to major or minor in computer science at Hood, you are choosing a college consistently ranked as one of the nation's best. The computer science program at Hood is accredited by the Computing Accreditation Commission of ABET, the global accreditor of college and university programs. The department has also been designated as a National Center of Academic Excellence in Cyber Defense (CAE-CD) through 2027 by the National Security Agency (NSA) and the Department of Homeland Security (DHS).
You will study topics in all major areas of computer science including hardware, programming languages, databases, software engineering, web development, networking, robotics, security, parallel processing and AI. You will be prepared for immediate employment, a long-term professional career or advanced studies.
First-Rate Education Led by Outstanding Faculty
Our flexible curriculum allows you to select coursework to meet your needs while preparing you for careers in many areas of computer science.
Internships and special projects opportunities allow you to gain real-world experience before graduation.
No matter what CS or IT program you enter, graduate or undergraduate, you will have an academic advisor from the department faculty.
Challenging and Interesting Career Paths
Computer science is not just about programming. It is in-depth study of computing concepts and applications, involving both hardware and software, to advance the development of all disciplines imaginable. This is what makes computer science such an exciting field!
Just a few of the fields where computing is used are: 
Gaming and animation
Communication, mobile devices, data networks, the Web
Medicine, computer-assisted surgery, prosthetics, medical imaging
Art, digital art, virtual reality
Transportation, automated vehicles, mapping and location detection (GPS), traffic control
Defense, surveillance, virtual training environments
Environment, environmental monitoring, meteorology
Archaeology, digitization and 3-Dimensional restoration of archaeological objects
Our Mission
The Department of Computer Science and Information Technology addresses existing and emerging student and community needs in information technology and computer science through high-quality undergraduate and graduate educational programs, research in collaboration with industry and government, and service to the College, professional societies and the community. 
The department is committed to creating an environment that supports collaborative research and development with both faculty and students; encourages innovative thinking and scholarship; values diversity and respect for individuals; and fosters ethical behavior and life-long learning.
Learn about the Center for Computer Security and Information Assurance.
Are you ready to say Hello?
Choose a Pathway
Information will vary based on program level. Select a path to find the information you're looking for!