Graduate Alumna Focus | Sarah Bailey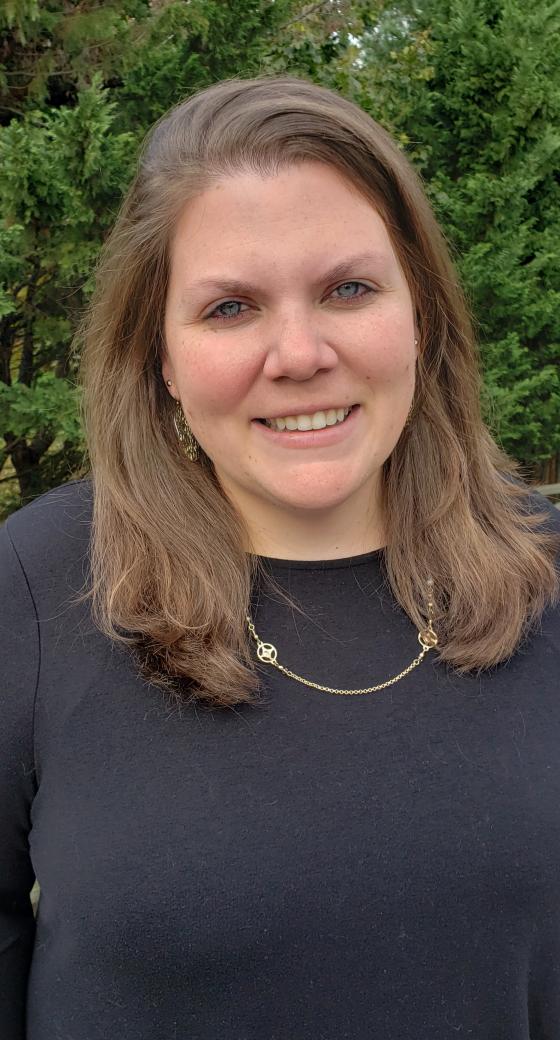 "My master's degree has helped me understand the reading and writing process in great detail and taught me how to effectively analyze student progress."
Sarah Bailey, Reading Specialization M.S.'19
Program
Reading Specialization (M.S.)
Department
Please tell us about your background. Include any general background that you would like to share, as well as your educational and career background.
I completed my undergraduate degree at Towson University where I graduated with a Bachelor of Science in Elementary Education in 2010.  I went on to Hood College to study in the Reading Specialization program and graduated with my Master of Science degree from Hood in May of 2019.
I am currently working as a literacy specialist at Middletown Primary School and have been working for Frederick County Public Schools for over 10 years. I started out as a substitute teacher while I was in college and then held a long-term substitute position at North Frederick Elementary School.
For the past 10 years, I've been a full-time teacher in positions at Lincoln Elementary and then Butterfly Ridge Elementary. I have taught 4th grade, 1st grade and Kindergarten.
At Lincoln Elementary, I served as team leader on both my 4th grade team and my 1st grade team. I also had an amazing opportunity to be a part of coaching the 4th and 5th grade dance team along with some very talented teachers and dancers.
During my time at Butterfly Ridge Elementary, I had the unique opportunity to serve as a mentor teacher to new teachers hired within the school as well as new teachers to FCPS at the school who were coming from other counties or states.
Through all of my experiences in the classroom, being both a student and a teacher, I have gained insight and knowledge about teaching, leading, and learning that has helped me reflect, grow, and develop within my career.
What made you choose Hood Graduate school and your program of study in particular?
As a teacher, I saw students who struggled with reading and writing and thus saw these subjects as hard or frustrating. They had negative feelings about their own abilities to read and write and it really affected me as a teacher.
I wanted to do all that I could to help them develop their skills and help them find passion for these subjects so they could experience the amazing opportunities reading and writing offers.
This was why I chose to focus on Reading Specialization for my master's program at Hood. I wanted to learn more ways to help these struggling readers and writers while finding ways to challenge those who already possessed strengths in these areas.
I chose Hood College because the feedback I received from my many colleagues who had gone through different programs at Hood for their graduate programs was nothing but positive!
Also, as a Frederick County native, I liked the idea of furthering my education at a local institute. Hood College has always had a great reputation and I was excited to personally experience what it had to offer.
 How has your graduate degree helped further your career and/or your life?
Through the classes and summer reading clinic at Hood, I learned so many ways to engage, grow, strengthen, and challenge readers and writers of all ages. By completing my degree while simultaneously holding a full-time teaching position, I was able to instantly put into practice what I was learning in the classroom at Hood within my own elementary classroom.
I've seen the benefits of what I've learned multiply as I've helped so many students over the years develop their reading and writing abilities.
My master's degree has helped me understand the reading and writing process in great detail and taught me how to effectively analyze student progress. I am better equipped to target areas of strength and need within my students so I can target instruction to support and challenge them.
It is these understandings that helped prepare me for my current role as a literacy specialist. The completion of my degree was spread over four years so that I could complete my courses while teaching full-time and raising a family.
These diverse responsibilities were hard to balance, but achieving the goal of completing a graduate degree was evidence that I had mastered that balance, and the process strengthened the bonds I have with my own family.
 
What did you enjoy about Hood College? Do you have a favorite memory?
I really enjoyed going through the Reading Specialization program.  As the courses became more narrowly focused on my specific program, I got to know the other students in my classes quite well as we were all in the education field at various schools across the county/state.
Having classes with the same classmates time and again really helped us work together and learn from each other which proved so beneficial once we entered the summer clinic at the end of the program.
I also loved the fact that most of my professors at Hood were employed in the local education systems and currently held, or came from, literacy specialist positions in or around Frederick County.
They were able to teach from experience and were experts in the field and held positions that I aspired to after graduation. I valued their insight and appreciated the real knowledge and experiences they shared.
I remember being stumped with one of my own first grade students and asked my professor, Casey Day, to take a look at the student's writing. She took time after class to go over it with me, give me suggestions on further assessments to try with the student, and offered suggestions for instruction.
I was able to really help the student with targeted instruction thanks to her and the help she was willing to give outside of the parameters of the college classroom.  It was professors like her that took time to get to know us and were willing to get deeply involved in our education that made my experience at Hood so enjoyable.
You are a new literacy specialist at Middletown Primary. Tell us about the opportunity.
My goal of becoming a literacy specialist was achieved when I was hired this school year by Middletown Primary School's Principal, Sandy Fox, and Assistant Principal, Courtney Borne.
I received a wonderful greeting and introduction to the school by the amazing staff and administration and it felt like coming home! As a Middletown native, I know and love the community, and am excited to serve the community in this new role.
What has teaching during COVID-19 been like for you?
The last few months have been a whirlwind for anyone who is in the education field. Back in the spring when schools let out and began online learning, I was a Kindergarten teacher. I was consistently proud and amazed at how my co-workers embraced this new way of teaching and helped each other learn tools and tricks for the digital world.
None of us were trained for this in our undergraduate or graduate programs, but we quickly adapted so that we could continue working with our students and preserve the bonds we made with them throughout the year.  It made us stronger within our grade level teams, and as a school, as we learned from each other and figured out how to teach in the digital environment.
Over the summer, I know many teachers, like myself, not only completed the training for online learning the county provided, but personally sought out opportunities to learn and grow on their own through webinars, blogs, and any other resources they could find to prepare them for online learning in the fall.
I constantly received e-mails, text messages, and saw social media posts of educators sharing what they'd learned to help others as we approached the coming school year. The educational community is amazing in this aspect.
I completely understand how hard digital learning is for both teachers and for families but we are working hard to make it the best experience we can, and I applaud each and every one of my fellow educators for working so hard these last few months.
Is there any other personal information, outside interests, or interesting facts that you would like to add?
I couldn't have completed my master's at Hood without the love and support from my family: my parents, my siblings, and my wonderful husband, Jonathan, as well as our amazing son, Camden, who was born while I was completing my graduate degree.
Since graduation, we've had another gorgeous little boy, Gavin, who is currently 3 months old. 
When I am not teaching and learning myself, I enjoy spending time with my family.  We enjoy taking walks at the local park, going on day trips to new places, and planning our next trip to Disney World, our favorite vacation spot, along with trips out to Deep Creek Lake.
Inspired by Sarah's journey to #GOFURTHER in your education and career? Click here to learn more about Hood's graduate programs including the Reading Specialization Master's program.
Are you ready to say Hello?
Choose a Pathway
Information will vary based on program level. Select a path to find the information you're looking for!