Graduate Student Spotlight | Wendy Wheeler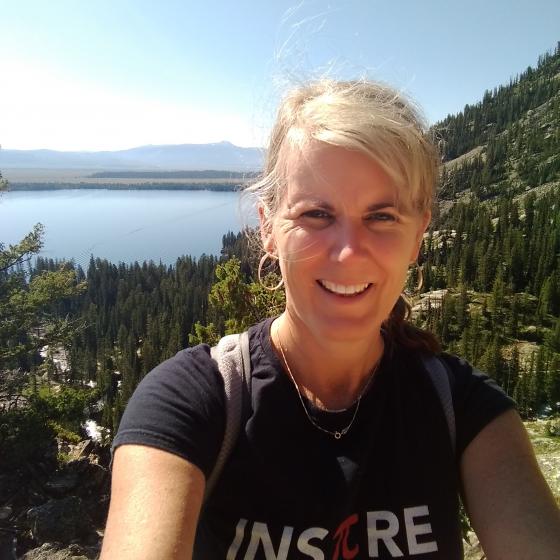 Wendy Wheeler is currently enrolled in Hood College's graduate program in Mathematics Education. She has taught 5th grade math for over 17 years.
Wendy Wheeler, M.S. Math Education
Program
Mathematics Education (M.S.)
Department
"Hood provides a solid math education program for teachers. There is a strong emphasis on linking the "what" of math with the "why" of math, and then the "how" to teach the math."
Please tell us about your educational and career background.
I grew up in San Diego, CA and graduated from a math/science magnet high school before attending California Polytechnic State University majoring in Architectural Engineering and Liberal Studies.
I moved to Maryland in 1986 where I later graduated cum laude from the University Maryland with a B.S. in Elementary Education. I began the Master of Math Education program at Hood in 2017 and will graduate this fall with a M.S. in Math Education and a focus in middle school education.

As a military family, we moved 13 times in thirty years. My husband was a military physician in the Army for over 30 years, retiring in June 2020. We have been blessed to raise four wonderful children ranging in ages from 17 to 30 and are grandparents to three beautiful grandchildren.

Being an educator has been an integral part of my life for many years. I taught 5th grade for over 17 years, taught art for all grades for a few years, and homeschooled my children in all subjects.
I also worked as a Children's ministry director for four years, have taught middle school science for the last few years and high school math this past year at Mount Airy Christian Academy.
Why did you choose Hood College Graduate School and this program in particular?
I initially chose Hood College for graduate school because my husband was transferring to Ft. Detrick and Hood was the closest college in the area to offer a Master of Math Education program. In addition, they had a program for middle school educators which was a perfect fit with my teaching experience and future career goals.

Earning a master's degree had always been one of my goals, but I lived a transient life as a military spouse and we were never guaranteed more than a year or two in any one location.  I chose a graduate degree in math because I enjoy the subject and it was a master's degree I could potentially complete in a two-year period, in case another move was in our future.

Math is so often misunderstood by students; this misunderstanding leads to mistrust and sometimes dislike of the subject.  I cannot tell you how many times I have heard, "I hate math," in my career as an educator. Math is so beautiful and makes so much sense.  I want my students to love math as much as I do, or at least tolerate it without total disdain.

The small class sizes allowed for both individualized instruction and cohort-stylized learning.  We had lively classroom discussions about teaching; getting other perspectives is critical for growing as a teacher. Most coursework was taught with a flexible, hybrid learning model, some face-to-face and some online learning.  This made it possible for me to work part-time at first and then full time this past year but still manage to finish my grad degree.
What do/did you enjoy most about hood College? Do you have a favorite memory?
Hood provides a solid math education program for teachers. There is a strong emphasis on linking the "what" of math with the "why" of math, and then the "how" to teach the math.  Math is also taught using practical, real-world problems showing math relevancy.  Requiring reflective writing is a hallmark of the Hood grad program.
Many of my instructors were practicing teachers who brought both conceptual understanding and practical, hands-on experience to the graduate classroom.  They modeled best teaching practices and there were always take-aways; we could immediately apply what we were learning to our own classrooms.

The math education coursework had a clear prescription, yet there was still "wiggle room" for elective choices based on personal interest. Two electives I took during summer sessions: Explorations in Calculus and History of Mathematics were very interesting and among my favorite courses.
I focused one of my lesson projects on the how the metric system developed and why it is important to have one universal system for measurement.  I used aspects of this project to teach the value of the metric system to my middle-school science students.
 
If you would like us to feature one of your projects, your portfolio, or some other accomplishment or award, please describe it. 
In January, I was asked to take over teaching a struggling Algebra 2 class, and the work I had completed in the graduate program at Hood was instrumental in preparing me for that challenge. There was so much misunderstanding and mistrust among the students that most of the class was failing the subject. It was a classic case of mathematical "failure to thrive," and my experience designing a strategic plan to remediate this class became the subject of my final paper at Hood College. 

It took every tool in my Hood equipped "math teacher's toolbox", but I am happy to say that all my students passed Algebra 2, even with the added challenge imposed by COVID-19 closures, forcing our school into distance learning.  
I am so proud to say that my students did not just pass, most of them have developed a "growth mindset" when it comes to math. They gained not only practical understanding of how to determine solutions, but they also gleaned conceptual understanding of why math was important.  My experience at Hood was the reason I was able to make that connection for my students. 
 
Is there any other information that you would like to add?  
It may have taken me 30 years to get here, but remember, learning is a life-long endeavor.  You are never too old to learn! 
Inspired by Wendy's academic journey & ready to #GOFURTHER in your education and career? Click here to learn more about our graduate programs including our M.S. in Math Education.
Are you ready to say Hello?
Choose a Pathway
Information will vary based on program level. Select a path to find the information you're looking for!