Hood College Graduate Students Participate in 4th Annual 3MT Competition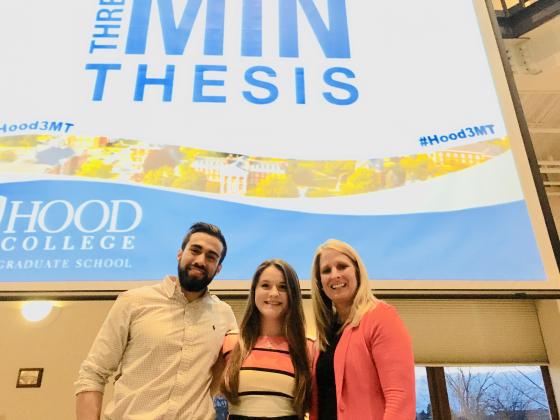 The fourth annual Three-Minute Thesis (3MT) Competition organized by Hood College's Graduate School took place on March 28, 2019.
Spotlight on Graduate Thesis Research
Program
Environmental Biology (M.S.)
Biomedical Science (M.S.)
Organizational Leadership (Doctorate)
Department
The 3MT competition is an internationally recognized event that features graduate student research in a variety of disciplines. Contestants are allowed one slide and three minutes to present their thesis research idea. Hood College was proud to run its 4th Annual 3MT Competition this spring. Three Hood graduate student winners – Michelle Shedd, Jose Sanchez, and Linda Chamber - emerged from this tough competition and were happy to share their experience.
When asked about factors that contributed to their success, Michelle Shedd - who won first place in the competition - explained, "I chose to pursue an education in environmental science and policy at Hood and, after a couple of years, decided to take on their combined degree which led me to the Environmental Biology master's degree which I finished this past January. As my winning talk was based on my master's project, I can thank many of those who were involved in the completion of that project.  I am particularly grateful for the assistance given to me by my forest service surveying team, Timothy Culbreth and Jerica Miller. Dr. Kristin Fisher provided me with her valuable knowledge, and I am very grateful for her guidance in helping me complete the project. April Boulton, Ph.D. has been my constant role model, and has pushed me to do everything I can including the 3MT competition."
Jose Sanchez - the second place winner- shared, "I attended Hood College for a B.A. in Chemistry, and graduated in 2012. I worked as a graduate research assistant for the Biology department of Hood College from 2016 to 2017 where I helped teach "BIOL 110: Food and Nutrition" while working on my thesis research under Craig Laufer, Ph.D. and while completing course work required by the Biomedical Science (M.S.) program. The support of Dr. Ann Boyd, my thesis advisor, Dr. Craig Laufer, and my thesis committee members, Dr. Ricky Hirschhorn (Professor of Biology at Hood College) and Dr. Dom Esposito (Director of the Protein Expression Laboratory at the FNLCR), contributed to my success at this year's 3MT competition."
Linda Chambers – third place winner - said, "I am a doctoral candidate at Hood.  I will earn my doctorate in Organizational Leadership (DOL) in September 2019.  I am a Director of Special Education in Frederick County Public Schools in Maryland.  My dissertation research is in the area of dismantling the preschool-to-prison pipeline.  I studied the impact of implicit bias in vulnerable decision making such as discipline and special education referral at the primary grades."
When asked about what advice they would like to share with future 3MT competitors, and what they wish they had known before they competed, Michelle said, "I would tell future 3MT competitors to relax. It is a stressful situation, but no one knows your project and research better than you do. That being said, make sure to explain it in a way that an average person can understand, they aren't an expert in your topic like you. I wish I knew just how nervous everyone else would be too before I competed. Everyone is in the same boat, help each other float."
Linda stressed the importance of preplanning. "Be concise, brief and speak from the heart.  Plan a script and practice prior to competing with peers who do not understand your research.  Listen to their feedback."
Jose shared another insight. "When presenting your information, engage the crowd with eye contact, make fluid transitions, include some humor and plenty of concrete metaphors to ground any technical or abstract concepts. Be open to feedback and adjust the talk accordingly. I wish I would have kept my slide simpler so that it wouldn't have been so nerve-racking to reformat it before the event!"
When asked about what inspired their topics, Michelle said, "My inspiration for my project stemmed from a need from the Maryland Forest Service that I was luckily able to meet with the help of Hood College's Center for Coastal and Watershed Studies. I believe that my project helps to contribute to our understandings of riparian forest buffer zones which can be key to improving the health of our aquatic systems."
Linda added, "I am very motivated by my research topic. It is based on my experience in the school system where I teach, and it has also impacted my personal life."
Jose was very clear about where his inspiration came from. "My advisor, Dr. Laufer, has granted me the freedom to tinker and play with a variety of different approaches to our research. This extra layer of freedom and accountability has further inspired me to move this project forward, and to present it to as many people as possible."
Want to be part of a 3MT Competition & inspired to #GOFURTHER in your education? Learn about Hood College's wide-range of graduate programs by clicking here.
Are you ready to say Hello?
Choose a Pathway
Information will vary based on program level. Select a path to find the information you're looking for!