Hood Magazine Receives Award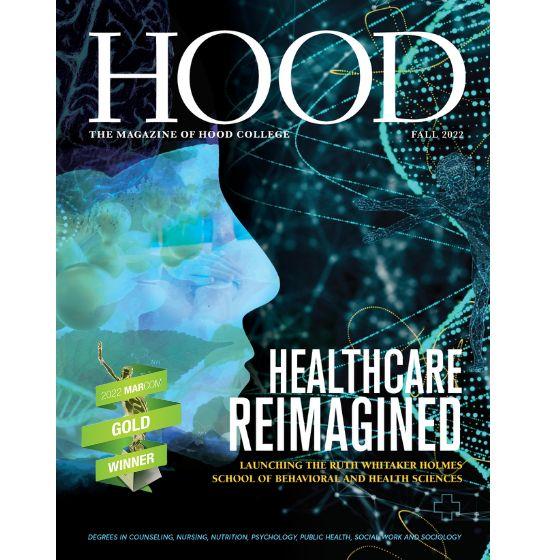 Marcom Awards announced today winners in the 2022 international creative competition for marketing and communication professionals, which included the Fall 2022 issue of Hood Magazine. There were more than 6,000 entries from throughout the United States, Canada and 43 other countries.
Fall 2022 Magazine Honored with Marcom Gold Award
Marcom Awards recognizes outstanding achievement by creative professionals involved in the concept, direction, design and production of marketing and communication materials and programs. Entries come from corporate and higher education marketing and communication departments, advertising agencies, public relations firms, design shops, production companies and freelancers.
The fall 2022 issue of Hood Magazine featured the cover story "Healthcare Reimagined" and the announcement of The Ruth Whitaker Holmes School of Behavioral and Health Sciences. Since 2017, Hood Magazine has been transformed and it continues to evolve. With a redesigned look and a new editorial architecture, each issue offers in-depth storytelling as well as snapshots of all that is going on at Hood. Alumni favorites like Class News have been reinvigorated and fresh columns like "A Look Back" and "Frederick Focus" provide interesting glimpses into Hood's tradition-rich history and celebrate Hood's partnership with its community. From inspiring alumni stories to expert insights from faculty on timely topics to student and athletic achievements, the magazine strives to capture the spirit of Hood.
Winners were selected from over 300 categories in Print, Web, Video and Strategic Communications. Judges are industry professionals who look for companies and individuals whose talent exceeds a high standard of excellence and whose work serves as a benchmark for the industry. A list of Platinum and Gold Winners can be found on the Marcom Awards website.
Marcom is sponsored and judged by the Association of Marketing and Communication Professionals (AMCP), a 27-year-old international organization consisting of several thousand creative professionals. As part of its mission, AMCP fosters and supports the efforts of creative professionals who contribute their unique talents to public service and community organizations. 
Are you ready to say Hello?
Choose a Pathway
Information will vary based on program level. Select a path to find the information you're looking for!