Spotlight on GSA President Laura Espinosa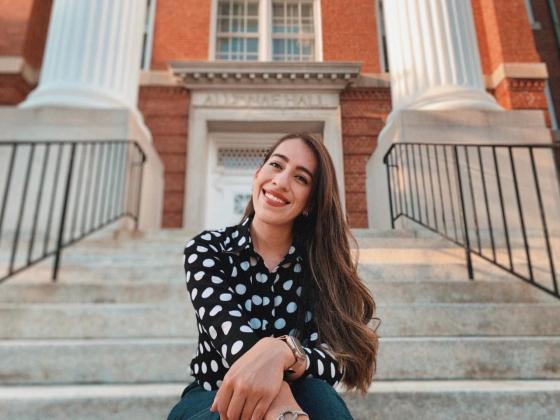 Laura is a native of Columbia and she looks forward to involving more international graduate students in the GSA.
Laura Espinosa, MIS student and GSA President
Program
Management Information Systems (M.S.)
Department
Computer Science & Information Technology
Why did you decide to apply for the Hood College GSA President position?
I decided to apply to the Graduate Student Association (GSA) President position because I want to strengthen my communication and leadership skills. I am a current Hood MIS graduate student, and I think that this is a great position to sharpen these skills.  Being GSA President allows you to stay in constant communication with graduate students to learn about their needs and make their graduate experience more enjoyable.
What do you like about the GSA?
The GSA is a fun association that helps Hood College graduate students connect and network through different events throughout the year. The GSA makes the students' academic journey more enjoyable, and gives them a venue to air suggestions and concerns.
How did the GSA help you in your graduate experience?
I didn't have the opportunity to participate in GSA events in the past. That is why I want to make sure that we reach the majority of the graduate student population so everyone gets a chance to have their voice heard and participate in GSA events.
What will you do differently, and what new initiatives will you implement in the upcoming year?
I plan to use more of our Hood social media accounts to keep everyone informed about upcoming events and graduate opportunities. My main goal is to reach a larger majority of our graduate students to get them more involved.
What do you enjoy about Hood College? Do you have a favorite memory?
Hood College is a very diverse school, and that is what I enjoy the most. I love meeting people from around the world to learn about different cultures and traditions. My goal is to join an international professional organization in the future.
Do you have a message for our current Hood College graduate students?
Please join us at our GSA-sponsored events! You will make new friends and widen your network. Our events are a great opportunity to share your experiences and stories. If you have suggestions for activities or events, please email me at GSA@hood.edu.
Inspired by Laura's story to enhance your career opportunities and get involved in graduate student life? Learn more about Hood College's Graduate School including its MIS program, by clicking here.
Are you ready to say Hello?
Choose a Pathway
Information will vary based on program level. Select a path to find the information you're looking for!