Artificial Intelligence in Cancer Research and Clinical Care: Turning Promise into Reality at Hood College
Leading scientists will showcase the latest applications of AI in cancer research and clinical care at the Frederick National Laboratory Scientific Symposium at Hood College Sept. 20-22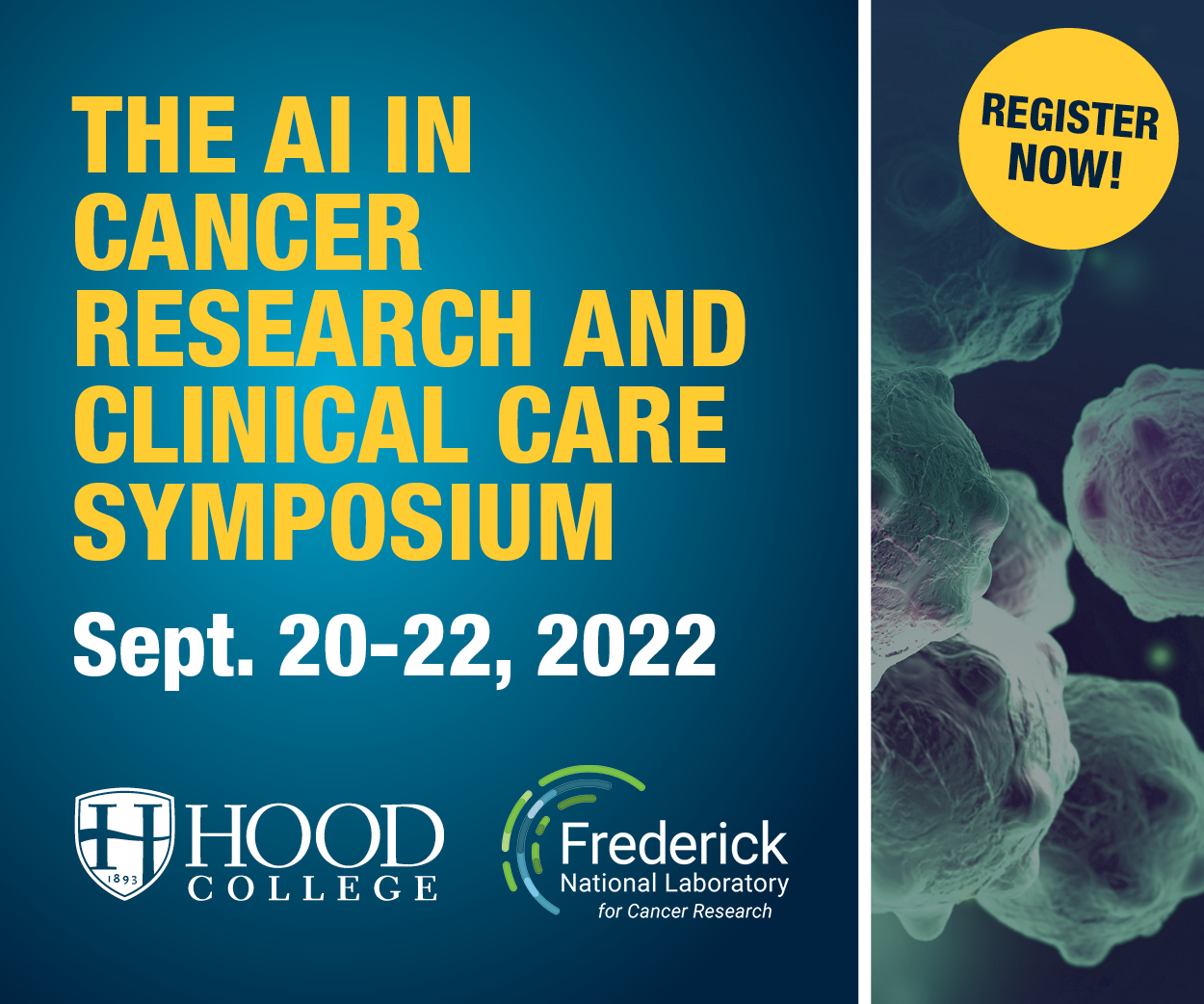 FREDERICK, Md., — Some of the world's top leaders in the field of cancer research will highlight the current progress of AI applications in clinical care at a scientific symposium hosted by Hood College in partnership with the Frederick National Laboratory for Cancer Research, Sept. 20-22.
Cancer researchers are invited to attend the conference, where experts will explore solutions and opportunities to achieve clinical adoption of AI. The event will be held on the Hood campus at Rosenstock Hall in Frederick, Md.
At the conference, experts will explore how AI is making decisive progress in understanding cancer biology, developing new treatments and improving the lives of cancer patients everywhere. This interdisciplinary symposium will showcase presentations that engage AI to address cancer health disparities, cancer patient digital twins, ethical use of AI, clinical adoption and ways to reduce biases in data.
"We are excited to once again hold this conference on the Hood College campus," said Hood College President Andrea E. Chapdelaine, Ph.D. "It will be a tremendous opportunity for our students to interact with scientists at the forefront of cancer research and to bring renowned researchers in this field to the Frederick community."
"We are grateful for this partnership with Hood College and look forward to hearing from the distinguished group of scientists leading the symposium. Seeing ways for the research community to engage artificial intelligence in cancer research will improve clinical care by making practice-changing discoveries," said Ethan Dmitrovsky, M.D., director of the Frederick National Laboratory, which is home to state-of-the-art data science technologies.
"We are at the cusp of transformative research. This conference is a great opportunity to get a glimpse of what the future holds for cancer care," said Eric Stahlberg, Ph.D., director of Frederick National Laboratory's Biomedical Informatics and Data Science Directorate.
This interdisciplinary conference is the second to be held at Hood College by the Frederick National Laboratory Life Sciences Symposium series and builds on the legacy of the prior National Cancer Institute Oncogene meetings at Hood, a national fixture in Frederick for more than 20 years.
The symposium will begin Tuesday, Sept. 20 with a reception at 5:30 p.m. followed by a public lecture from keynote speaker Keith Yamamoto, Ph.D., special advisor to the chancellor for science policy and strategy at the University of California, San Francisco. Yamamoto will discuss how artificial intelligence in cancer research and clinical care can turn promise into reality.
To learn more and to register for the event, please visit the symposium website.
Media Contact
Events
Community Partnerships
Computer Sciences