Back to School Vaccine Clinic to be held at Hood College
Hood College, Frederick Center, Frederick County Health Department team up for summer vaccination clinic
WHEN
Saturday, July 17
AND
Saturday, August 7 
10:00 a.m.-1:00 p.m.
WHERE
Hood College Whitaker Campus Center 
401 Rosemont Ave.
Frederick, Maryland 21701
DETAILS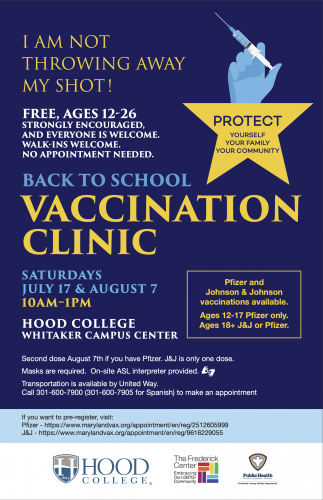 Hood College, the Frederick Center and the Frederick County Health Department are teaming up to offer two vaccination clinics this summer inside the Whitaker Campus center. Don't throw away your shot!
All vaccines distributed at the two clinics are completely free of charge. Both Johnson and Johnson and Pfizer vaccines will be offered at the clinics. The Pfizer vaccine will be distributed to ages 12 and older, and the Pfizer and Johnson & Johnson vaccine will be distributed to ages 18+. No pre-registration or appointment is required.
MORE INFO
Amanda Rzepkowski, Director of Wellness, Hood College
Media Contact
Undergraduate student
Graduate Student