Ceramics Sculptures and Mixed Media Gallery on Display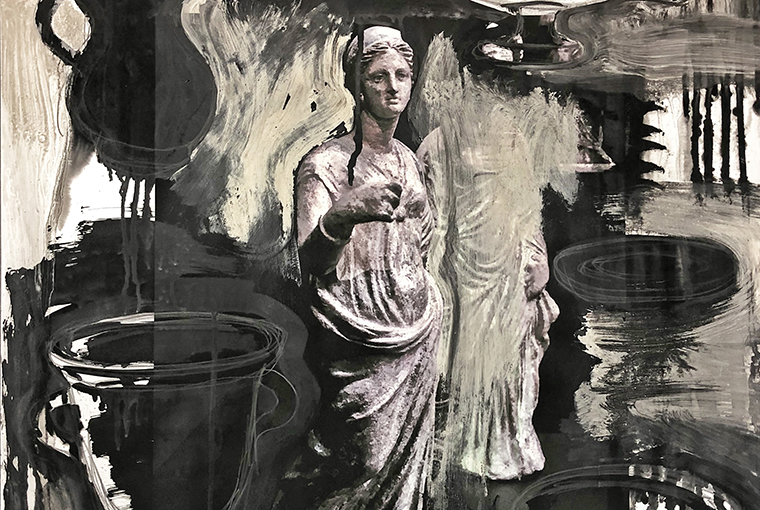 FREDERICK, Maryland—A collection of ceramic sculptures and mixed-media drawings by artist Brian Rust is currently on view in the Whitaker Gallery at Hood College through Oct. 20.
Rust, from Augusta, Georgia, is known primarily for large-scale sculpture and outdoor installations, and he has recently rediscovered his "roots" as a potter. For the past several summers, he has accompanied students from Augusta University on study abroad trips to Greece and Spain. During these travels, he visited many historical ruins and museums bursting with artifacts from ancient Mycenaean, Minoan, Greek and Roman cultures.
Upon his return, Rust created his most recent body of work, "Out of History." He took inspiration from the curves of clay vessels and amphorae, the loosely-draped figures, and crumbling statuary, and blended it with familial representations and personal symbolism. Many of the works are self-portraits or depictions of his children, whose faces he has meticulously archived the last 20 years using silicon molds. Others directly reference decaying artifacts and pottery shards. All of the clay used is from Lizella, Georgia. The mixed-media works are created by manipulating digital images Rust photographed in Spain, then drawing on the surface with a clay slurry, graphite and India ink.
Rust was born and raised in Washington state. He earned a bachelor's degree in fine arts from the University of Washington in Seattle, and a master's of fine arts from the University of California in Berkeley. Rust is currently a professor for the Department of Art at Augusta University, where he teaches sculpture, ceramics, and world humanities. He has exhibited at completed installations at renowned venues throughout the U.S.
The Whitaker Gallery is open daily from 9 a.m. to 7 p.m. Call 301-663-3131 for current access information. For more information about the exhibit, contact Michelle Schulte, gallery director, at 301-696-3285 or schulte@hood.edu.
Media Contact
Tommy Riggs
Assistant Director of Marketing and Communications