CIC President Honored with Hood College President's Medal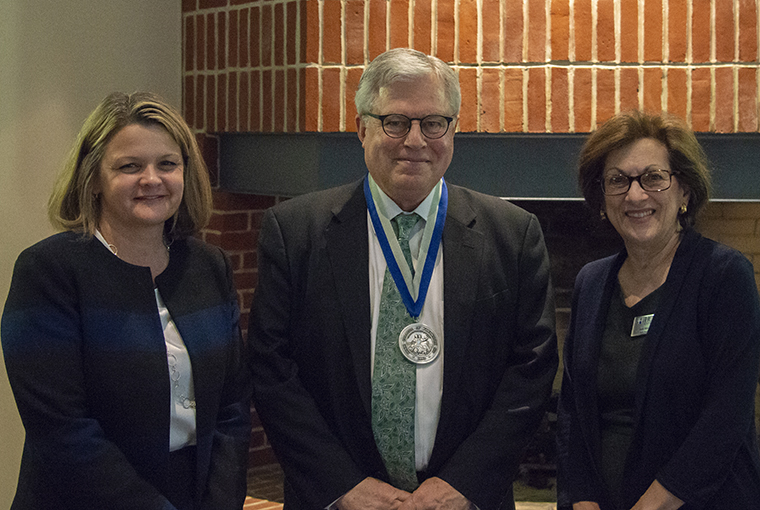 FREDERICK, Maryland—Hood College President Andrea E. Chapdelaine presented the President's Medal for Opportunity to Richard Ekman, president of the Council of Independent Colleges (CIC), during a ceremony this afternoon.
President Ekman was on campus with Harold Hartley, senior vice president at the CIC, to present their talk "Debunking the Myths: Making the Case for Higher Education to our Friends and Neighbors." The talk explained the myths surrounding higher education to give community members a better understanding of the issues facing the industry.
"I am honored to present Dr. Ekman with the President's Medal for Opportunity to recognize his great work in helping create and realize opportunities for others," said President Chapdelaine. "Over the past 19 years, President Ekman has created opportunities for each of the CIC's more than 650 independent colleges and universities, and thus, for hundreds of thousands of students."
During President Ekman's tenure, the CIC has seen growth in membership programs and services, which have benefited countless private colleges and their students, including Hood. A member of many boards, including the Yale-New Haven Teachers Institute, American Academic Leadership Institute, and the American Council on Education, he provides guidance and lends his expertise to educators across the country.
The Hood College President's Medal is a prestigious honor awarded to an individual or organization who exemplifies one of the College's core values of Hope, Opportunity, Obligation and Democracy. Established in 2017 by President Chapdelaine to coincide with the College's 125th anniversary celebrations in 2017-18, the medal features the College's seal on the front and one of the College's ionic pillars from Alumnae Hall on the back. The honored value is engraved atop the pillar, along with the recipient's name. The medal hangs on a ribbon of blue and grey.
Media Contact
Awards
Community Partnerships