Data Driven Frederick receives $10,000 Grant from PNC Foundation
The student and faculty-led data center to receive $10,000 from PNC Foundation to support efforts in business data aggregation and dissemination

Hood College has received a $10,000 grant from the PNC Foundation to help fund the new George B. Delaplaine Jr. School of Business Data Driven Frederick Center. Data Driven Frederick will serve to collect, aggregate, and make available via an interactive website the vital regional indicators for the greater Frederick community.
Data Driven Frederick will provide Frederick County's public and private sector decision-makers with the big data they need to make fiscally responsible decisions. Hood students and faculty members will serve as researchers on community-based projects and will explore their own research questions using this extensive dataset.
Associate Professor of Management and Chair of the George B. Delaplaine Jr. School of Business David Gurzick, Ph.D., said this on the grant: "Hood and the School of Business are deeply appreciative for the PNC Foundation's support of the Michael and Marlene Grossnickle Young '76, H'14, P'09 Data Driven Frederick Center. The PNC Foundation's mission of 'strengthening and enriching the lives of our neighbors in communities where we live and work,' aligns with the goals of data Driven Frederick.
"These collective efforts, made possible by the support of the PNC Foundation, will enable us to engage the most challenging segments of economic development, surfacing inequities and identifying areas of need for economic development."
Through their engagement with Data Driven Frederick, students will develop sought-after expertise in research methodology, data analytics and project management, while also honing skills critical to future professional success, such as communication, critical thinking and collaboration.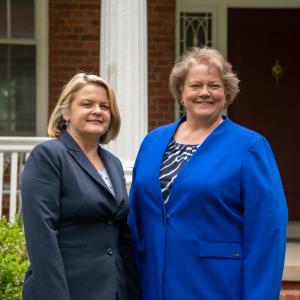 "Due to Frederick County's geographic location in Maryland, finding meaningful data for Frederick that excludes the surrounding metropolitan regions can be difficult," commented Stacey Collins '89, Vice President, Client & Community Relations at PNC Financial Services and an alumna of Hood. "Hood's willingness to invest resources in this will pay dividends for the city, county and region for years to come. It's a desirable place to live, work and play. Having data available that tells a Frederick-specific story in numbers, and is updated regularly, will create rich learning experiences for Hood students and help draw business to the area." 
Media Contact
Community Partnerships
Business
Business Graduate Programs