Delaplaine Foundation Inc. donates $25,000 to Rosenstock Hall Renovations
$80,000 awarded in total as project enters phase three
FREDERICK, Maryland—Delaplaine Foundation, Inc. has awarded Hood College $25,000 in capital funds to assist in the renovation of the third floor of Rosenstock Hall into the Delaplaine Foundation Multimedia Center.
This project is now possible due to the Josephine Steiner Student Success Center, which has occupied the third floor of Rosenstock, moving to the newly renovated Beneficial-Hodson Library and Learning Commons.
"This grant is for Phase III of the Delaplaine Foundation Multimedia Center.  We're excited to see the Multimedia Center continue to expand and to date, we've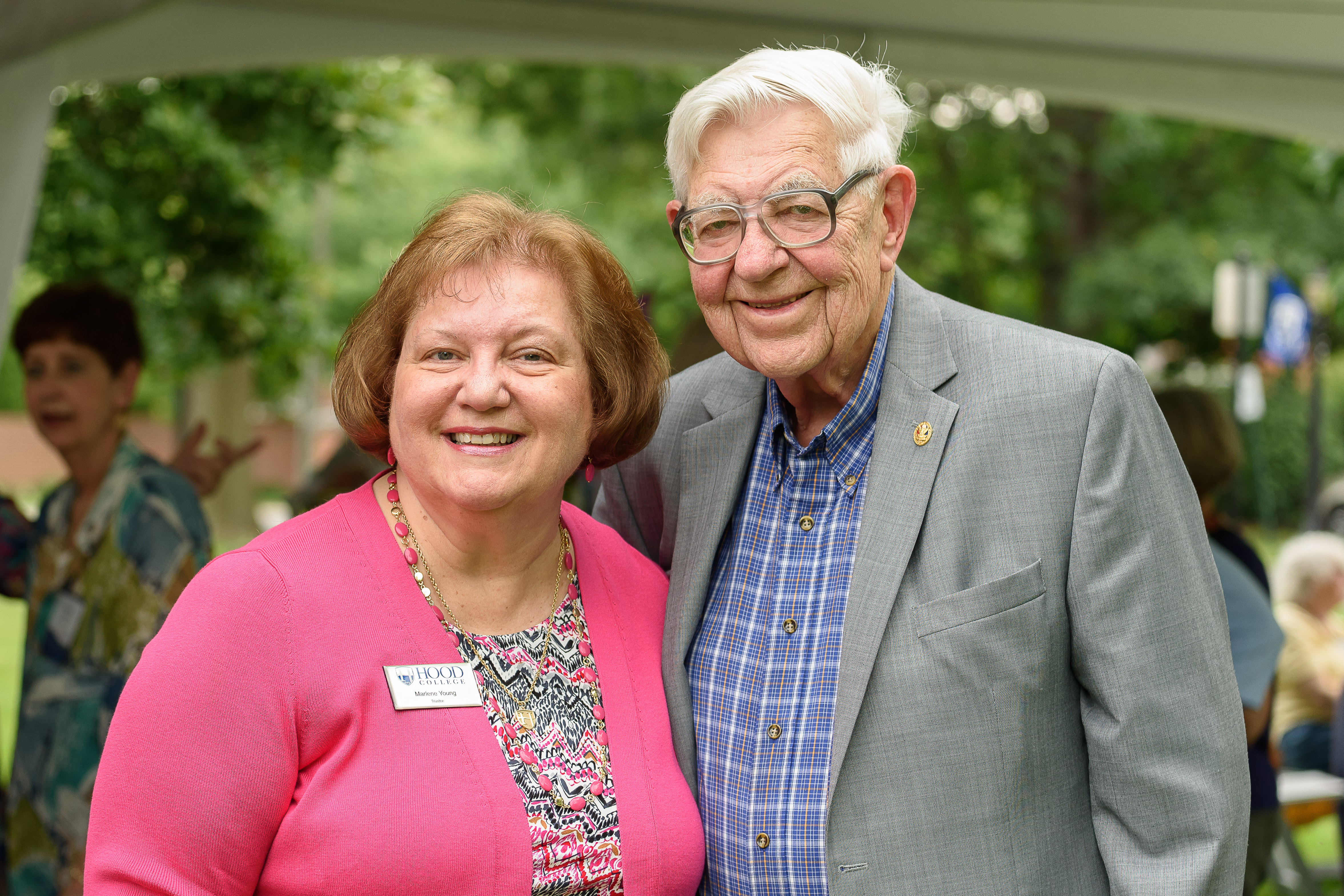 made three grant awards totaling $80,000 towards this project. The Delaplaine Foundation Multimedia Center is especially meaningful for us as we have strong ties and deep roots in the publishing and cable telecommunications industries. We are eager to see this become yet another distinguishing factor for Hood College students in receiving a high education of excellence while preparing for purposeful careers in media and related industries," said Delaplaine Foundation Inc. President Marlene B. Grossnickle Young '76, P'09, H'14.
"The Delaplaine Foundation has been instrumental in helping us develop the space and tools we need to build the communication arts media lab into a state-of-the-art location," said program director Katherine Orloff. "This grant takes us closer to our goal."
The award will help the college convert Rosenstock 306 from a classroom into a broadcast studio by installing acoustic panels, adding walls and infrastructure for a control room, removing the drop-down ceiling panels and reestablishing the room's original ceiling height to allow for lighting and wiring.
A wall outside the present Student Success Center suite will be demolished and the reception area enlarged to create a meeting and lounge space for student media organizations. Glass walls will be installed in a current testing room to create a space for the Blazer Radio broadcasting booth that would be visible to visitors. A tutoring space will be converted into a photography studio. The existing broadcast studio will be repurposed to accommodate podcasting shows and smaller video programs.
"Hood College and the communications department are very thankful for the continued support from Delaplaine Foundation Inc. towards the construction of a multi-media suite on the third floor of Rosenstock Hall," said Timothy Jacobsen, Hood College Broadcasting coordinator.
"This grant brings us one step closer to creating a state-of-the-art media suite that will allow for collaboration between all of Hood College's communications outlets, including Hood College Broadcasting Studios, Blazer Radio and the Blue and Gray Newspaper. Our goal is to create a program that will be the envy of other colleges in our region."
Associate Professor of Journalism Elizabeth Atwood said this on the award: "We are grateful for the continued support of Delaplaine Foundation Inc., which has recognized how important it is to give students the tools they need to be proficient communicators across media platforms. This gift will help us offer greater opportunities for our students as we prepare them for careers in mass communications."
Media Contact
English & Communication Arts