Flying Dog Brewery CEO to Give Talk on Free Speech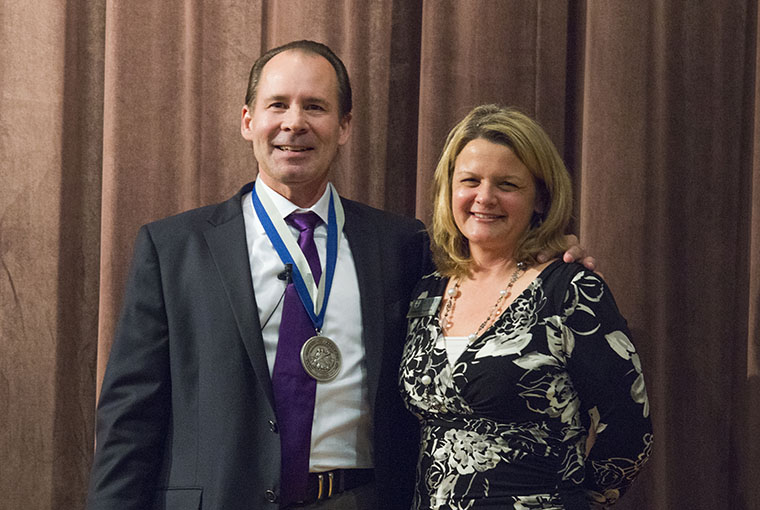 FREDERICK, Maryland—Jim Caruso, CEO of Flying Dog Brewery in Frederick, will give a public lecture on Oct. 18 at 7 p.m. in Hodson Auditorium in Rosenstock Hall at Hood College.
His talk, "Free Speech for Me, But Not for Thee?" will cover a range of issues related to freedom of speech and freedom of expression. He will discuss the founding principles behind the First Amendment, the constitutional limits on free speech, and current perspectives on free speech as it has developed since the 1960s.
Caruso will also talk about free speech on college campuses, laws regarding hate speech in other countries and why such laws don't exist in the U.S. There will be a Q&A after the talk, and the event is free and open to the public.
Hood President Andrea Chapdelaine, Ph.D., will honor Jim Caruso with the President's Medal for Democracy, one of the Hood College core values.
"Jim Caruso has earned this medal through his commitment to the democratic principles of our nation by educating the public on critical First Amendment issues," said President Chapdelaine.
In 2010, Flying Dog sued the State of Michigan for violating its First Amendment rights by banning a beer it deemed "detrimental to the health, safety and welfare of the general public." After a six-year legal battle in federal court, Flying Dog prevailed, and Caruso used the damages awarded to Flying Dog to found the First Amendment Society, a nonprofit organization whose mission is to raise the public's awareness of the First Amendment through events, speaker series, scholarships and partnerships with organizations such as the Frederick County Public Libraries.
Caruso earned a bachelor's degree and master's degree in economics from the University of Missouri, and he earned a degree in brewing science from the Siebel Institute. Caruso is this year's recipient of the "Reason Media Award, Friedlander Prize" for free speech in recognition of 40 years' of defiantly non-partisan involvement with free speech. He has also been recently named the Entrepreneur of the Year by the Frederick County Entrepreneur Council, Maryland's Most Admired CEO by the Maryland Daily Record, and Alumni of the Year from the University of Missouri College of Arts and Sciences.
Founded in 1990, Flying Dog Brewery is a crusader in craft beer and a defender of the First Amendment. Flying Dog views brewing beer as an art form unlike any other.
Media Contact